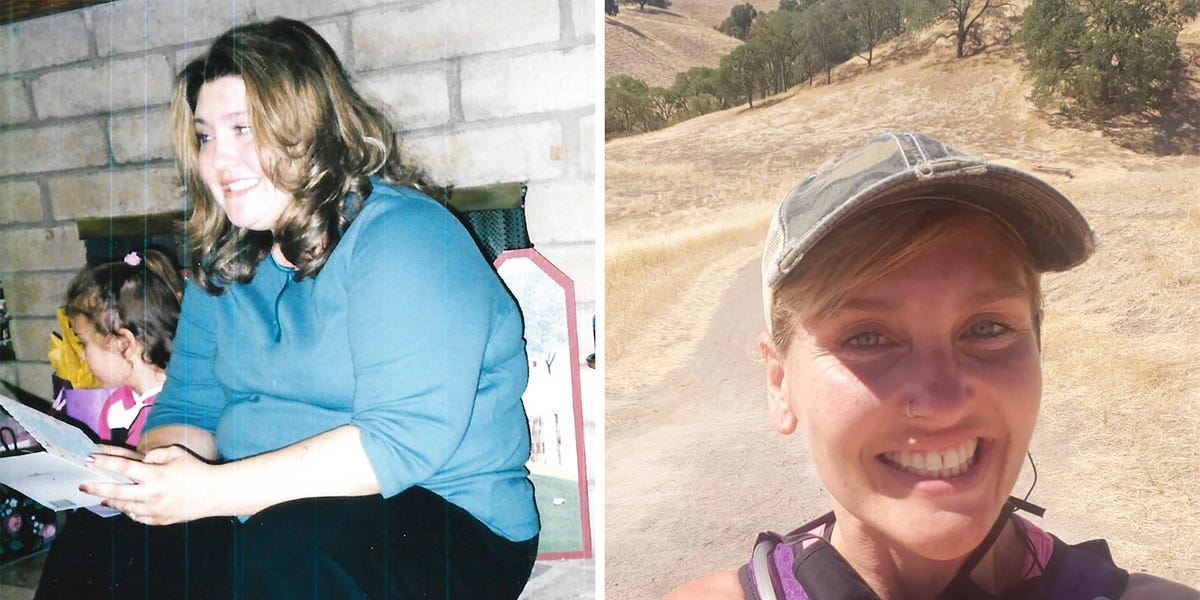 Name: Gina Davie
Age: 42
Job: Executive Coach and Personal Trainer
Home: Concord, California
Starting weight: 300 pounds
End weight: £ 175
Running time: 9 years
---
I struggled with my weight all my life. When I was in first grade, I weighed 105 pounds. The kids were making fun of me, and my mom didn't know what to do, so she took me to a dietitian who put me on my first diet at the age of seven.
While I have lost weight in such a short time, it is confusing to be told not to eat certain things. I was celebrating when I successfully lost weight, and kept quiet when I was unable to lose weight. It has certainly created a complicated and confusing relationship with food and diet that has followed me to adulthood.
Subscribe to Runner̵
7;s World + for more inspirational stories like Gina's 🏃‍♀️
When I was 28 years old in 2006, I hit 300 pounds. My twenties are arguably the best decade. Instead, it's a place where I've spent most of my time feeling worthless and ashamed of who I am. I miss out a lot because I feel so bad about myself; I don't want people to make fun of me, and to be honest, I get tired of it.
My husband and I have been trying to have a baby for three years. Around that time, I learned that we were unable to have children and part of the problem was my weight. I didn't want to waste another decade and watch life continue to pass by me, so I decided to go to Weight Watchers in September 2006 and make a change.
This is everything I need. It's not that I don't understand what to eat, but I need someone to teach the boundaries of food. The point system did just that. You can eat anything you want, but write it down, keep track of your scores and when you're done, you're done.
By creating those boundaries, I learn to be present and mindful of what I am eating, how I eat, when I eat, and why I eat. The way I ate before was terrible. I ate a lot of cheap fast food; A typical McDonald's dinner order is two burgers, french fries, and a large can of Coke.
Weight Watchers helped me feel hungry for the first time in my life and learned to reconnect with my body. As for me at 300 pounds, there is no connection to my body. If it did, it would be too painful, so I turned it off.
My diet is very different now. I am a vegetarian, love salad, roasted vegetables, rice, beans, tofu and coffee. I don't take away from me, but I also don't want the things I've eaten. I like that I can see immediately how nourishing foods energize me and improve my mood, and how nondourishing foods have the opposite effect.
Doing this has helped me lose 65 pounds. I was also able to get pregnant. I struggled to stick with Weight Watchers while trying to eat enough food for my baby. After giving birth, I struggled, but I was motivated because I wanted to be a good role model for my baby. This is the same as when I have a second child.
After having two children, I am ready to try to reach my target weight, but I am also trying to lose weight.
Dieting is essential, but I found myself stalled for not exercising. Jogging seems to be something healthy and right for everyone, so I tried it out in 2011 – and it's a game that changed my weight and my life.
During my first run, my goal was simply to run to a certain landmark, walk for a while, then run again. They were very difficult, and I was having difficulty breathing. I remember an early run where something broke my leg – I had to walk home, and I cried the whole time because I thought it was the end of the run. After talking to a neighbor, he told me the problem might be with my IT team and provided me with some resources. A week later taking a break and buying a new pair of shoes, I started striding.
The moment that mattered to me, the moment that made me believe I was a runner, was my first 5K race. Before that race, I had never run three miles or completed an activity without walking.
With my husband pushing our kids in a stroller and pushing me all the way, I ended up running all 5K, even as my husband slowed down. I crossed the finish line and cried. I wish there were words that could fully describe how I felt for me, who used to only see myself as a fat girl who didn't really deserve to finish that race.
That moment made me flick a switch and start to see that the possibilities of my life were more than I ever imagined.
[Discover1050reductionor100poundwith[Discoverhowtorun1050oreven100poundsoffwith[Discoverhowtorun1050oreven100poundsoffwith[Khámphácáchgiảm1050hoặcthậmchí100poundvới[Discoverhowtorun1050oreven100poundsoffwithRun to lose.]
In total, I've lost 125 pounds. I hit that milestone in 2011. Since inception, I have run marathons, become an RRCA Certified Running Trainer and start my own coaching work.
For me, I am very grateful for every run because I know I can't always do it and I want to enjoy it for as long as possible. For me, running is just a pleasure.
For anyone looking to make a similar change in their life, my advice is to take the opportunity in a life that you can't even imagine. Jogging teaches me to believe in myself, that I can change, I can do hard things and I can run after my fears instead of letting them dominate my life and conquer them. . It profoundly changed the way I see myself and the way I see others. No matter how you look or how fast you run, it is important that you get up and walk out the door and decide to prioritize yourself and your health.
---
We want to know how running has changed you! Submit your story and submit your photo to us via this web form. We will choose each week to make it stand out on the site.
This content is created and maintained by a third party and is entered into this site to help users provide their email address. You can find more information on this and similar content at piano.io
Source link