COLUMBIA, SC (WIS) – A Lexington County woman is looking for answers why her grandmother's death certificate lists COVID-19 complications as the cause of death, when she says her grandmother has never been tested for a virus and does not show any symptoms.
Now, the family has turned to WIS to investigate why a health care doctor signed this, and whether the death of their loved one is included in the Department's daily deaths total. Health and Environmental Control or not.
Kimberly Klosterman said her 79-year-old grandmother, Joan Hill, had suffered from dementia for several years.
She moved in with Klosterman̵
7;s mother in Richland County in January and was cared for at home by Amedisys in West Columbia until she passed away at her daughter's home on July 31.
The following week, Klosterman and her family were shocked and saddened when they received Hill's death certificate, which listed Alzheimer's disease and COVID-19 complication as the cause of her death.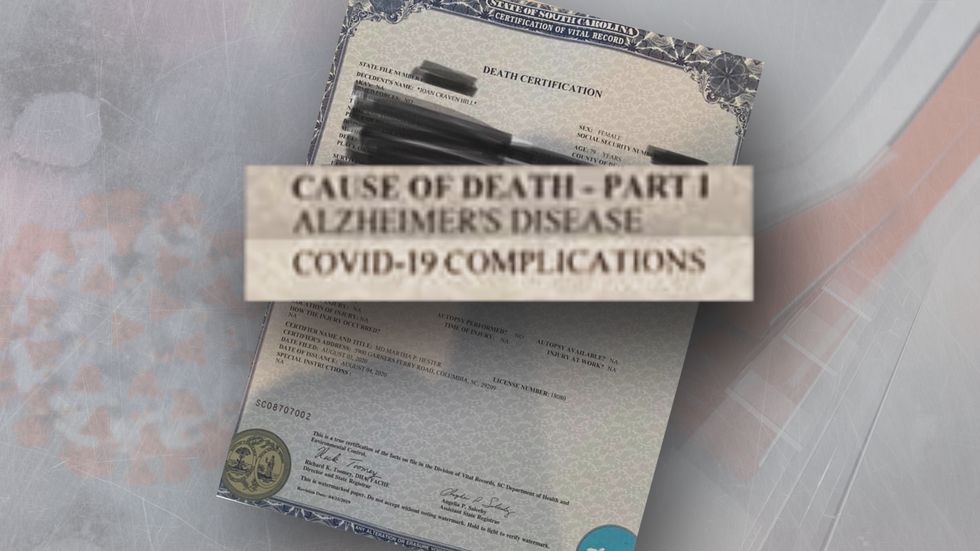 "That's not true. She was never tested before or after she died, so I'm not sure how it could even be listed on her death certificate," explained Klosterman , who said her whole family had been tested for the virus a few weeks before and had all received negative results.
Richland County CEO Gary Watts was called on July 31 to respond to Hill's death, which is required if someone dies outside the hospital.
"When you (WIS) contacted me the first time we learned that anything was listed as a COVID," said Watts. "When we got the initial call, it was a patient with Alzheimer's – nothing was mentioned about COVID-19 at the time."
He also explained that investigators are not required to sign someone's death certificate in the hospice, and that is done by an Amedisys doctor.
"It is definitely something that needs to be answered as to why did that happen, and who made that decision, and why the decision was made if there was no indication for that," said Watts. seen at the time of death. "I think families deserve an answer. "I think we all deserve an answer."
Klosterman said her grandmother did not perform an autopsy, and her body was transported from her mother's house to the funeral home directly.
"She is breathing fine; That's the last thing for her, "said Klosterman. "Her lung function was fine until the end, so she didn't have any symptoms of COVID."
WIS reached out to DHEC to find out if Hill's death would be listed in their daily total and a spokesperson sent out a notice that they could not respond to it because they could not. comment on death or specific event due to privacy restrictions. (Read the agency's full statement at the end of this story.)
The agency also explained that a COVID-19 death was confirmed requiring virus testing, while a potentially fatal person was someone with a death certificate listing COVID-19 as a significant cause of death. But the person did not undergo a real test.
Based on that information, Hill's death may have been counted toward the probable number of deaths – but the WIS does not know for sure at this time.
When Klosterman contacted DHEC to ask if her grandmother's death would count towards the total, the agency declined to respond, saying Amedisys would have to respond.
The WIS asked Amedisys why a doctor would sign a death certificate showing COVID-19 complications without having the patient tested for the virus. They issued a statement saying they acted in accordance with the investigative office and followed the clinical procedures. (Read their full statement at the end of this story.)
But Klosterman and her family still wanted answers, and most of all, they wanted to make sure Joan Hill wasn't listed on the COVID-19 death list in South Carolina.
"I know very well that COVID is real," said Klosterman. "I have known people who have had this disease, have been hospitalized for it, have passed away because of it – but to have a report back and say that's what my grandmother passed away when she was even Untested, no symptoms, it's just devastating. "
WIS takes all allegations seriously regarding issues with the number of COVID-19 cases and reported deaths, and considers all of them. This is the first time WIS has heard of the discrepancy in the numbers that has had evidence to support the allegations.
DHEC's full statement:
"Please note that DHEC is unable to comment on details of privacy restrictions or deaths. Although DHEC is the official state record-keeping agency of important statistical information. DHEC has no role in determining the cause of death; it is identified by the medical certifier (be it a doctor, an advanced practice nurse or investigator), person, for COVID-19, use the latest CDC instructions.
"We cannot confirm at the moment that a DHEC staff member has proposed anything other than consulting the current CDC guidelines.
"DHEC performs a cross-analysis of initial information on a death reported directly to the agency by the medical certifier, which is then submitted to the agency on the individual's official death certificate to Make sure it matches and we contact the medical certifier in there is a difference. DHEC works to protect overall public health and statewide disease surveillance, but it does not oversee individual patient care and cannot provide medical advice to any which individual. "
Amedisys full statement:
"Amedisys is very proud of our commitment to our patients and the ultimate care we provide. Please understand that because federal law protects the privacy of patient information, we are unable to provide you with details regarding this situation, other than that we have acted under the Office of Investigators. and follow clinical procedures. Our top priority now – and always has been – is taking care of patients and their families to ensure they receive the highest quality end-care service. "
Copyright WIS 2020 through Gray Media Group, Inc. All rights reserved.
Source link