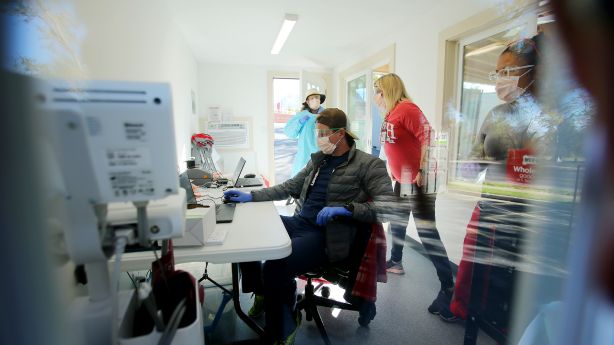 SALT LAKE CITY – As COVID-19 cases continue to flood health care systems across the country, with Utah's current hospital admissions number of 389 on Thursday, flu cases have been reported. is low nationwide.
According to the most recent Utah Department of Health data from October 24, no patients were hospitalized in Beehive State for flu, and seasonal flu activity across the United States remains low, according to the Center for Control. and Disease Prevention.
"If someone has signs and symptoms of COVID-19 and they are negative, in my mind, it is still COVID-19," said Dr. Eddie Stenehjem of Intermountain Healthcare in a questionnaire. answered recently.
Stenehjem said surveillance of respiratory viruses across Utah in the Intermountain Health Care system showed that no other viral respiratory pathogens ̵
1; such as influenza and rhinovirus – were widely circulating.
"So if someone has viral respiratory disease with fever, cough and muscle aches and the like, it's COVID, whatever your test says because nothing else is circulating," he said.
Stenehjem further explained that the accuracy of the test can vary depending on the type of test performed and when it is completed. Usually, the tests are most accurate when the person has the highest viral burden in their upper respiratory tract, two days before and after symptom onset, he said. Can happen if a person is tested seven days after symptoms have occurred, their test may be negative because of the lower viral load.
Stenehjem notes that the coronavirus is still very new and experts are still trying to figure out the best treatments and develop a vaccine.
However, the flu virus is not new and treatment and immunization plans are widely available – meaning it is important for doctors to know who is sick to treat and care for their patients well. Best.
That's why Rebecca Ward, health educator at UDOH, says it's important to get tested for COVID-19 if you have any symptoms.
"Very few people, if anyone else, are immune to (COVID-19) and to continue this pandemic mitigation effort we need to know, we need to be tested. We want everyone to be tested. COVID if they have symptoms, "she said. "We want to know if it is the flu and the COVID, so we can take the appropriate steps."
According to Stenehjem, whether someone is immune to the new coronavirus remains to be seen. Repeated infections are common with most seasonal respiratory coronaviruses, he added.
"The problem with coronavirus is that you can get the infection repeatedly," he said. "So immunity to the herd by letting everyone infected with this disease, with SARS-CoV-2, know that you can get infected again, is not the right way to move forward."
So-called herd immunity means that people will become infected with COVID-19 and still be at risk of getting it again after a year or two, explains Stenehjem.
"We do not know enough about the immunology of the virus to say how long you are protected and whether you are protected," he noted.
Intermountain Health Center has witnessed cases of COVID-19 reinfection at the facility, Stenehjem said.
In June, the hospital saw a patient who was asymptomatic positive, then tested again positive for COVID-19 and this time hospitalized for the disease.
"That swarm immunity is not one that we need to look at right now in Utah," says Stenehjem.
According to Stenehjem, influenza testing in the Intermountain health care network increased 450% in October compared with October last year.
"Are we looking for it? Well, we are purely looking for it," he said. "It's really a hot issue right now and one that we are actively monitoring."
Intermountain is tracking the results of virus tests daily and sending data to caregivers weekly, Stenehjem said.
Stenehjem said care centers will know how to periodically check patients with flu symptoms in a community.
"We've set up a system … so they know when we start to see flu in our community and that will be the motive for them to say 'OK, in the community, I need to see. flu testing or empirical treatment for influenza. '"
The flu season typically runs from October to May and for months, health officials have urged the public to follow public health and flu vaccination guidelines. As Utah continued to break hospital records and new cases, that plea grew even more desperate.
"We still want people to know that a vaccine (flu) is available and vaccines if they don't get very sick," Ward said.
Salt Lake County Health Department offers flu shots at no cost during supplies Monday through Friday last week.
More information about the free influenza vaccine is available here.
With Utah hospitals almost completely overburdened, Ward says it is possible that hospitalizations due to the flu could cause more damage to the system.
"We deal with many different types of infectious diseases," Ward said. "Flu can be fatal. COVIDs can be fatal. One of these two illnesses can lead to serious hospitalization and even death."
While no vaccine is 100% perfect, Ward says getting a flu shot doesn't reduce a person's chances of getting seriously ill if they get the flu and reduce the likelihood that they'll be hospitalized.
On Thursday, a record 2,807 new COVID-19 cases were reported in Utah along with seven new deaths.
Since the start of the pandemic, Utah has seen a total of 5,830 coronavirus hospitalizations with a total of 124,292 confirmed cases with 89,837 considered recoverable cases.
"We will continue to increase the number of hospital admissions (COVID-19)," Stenehjem said. "It's an unsustainable pace for us to handle all of these cases."
Out of 389 COVID-19 patients who are in hospital, 158 are in intensive care. Stenehjem notes that the load to the hospital is directly attributable to the COVID-19 patient – not delayed care from a previous temporary closure. He also said that if the number continues to rise, non-urgent surgeries may need to be halted.
"That day is coming, we have to do it again so we can admit the patients," he said. "A lot of people do surgery, then stay in the hospital overnight. Well, that bed needs a bed and that bed is likely to be used by the COVID-19 patient."
Considering capacity in hospitals and intensive care units, Stenehjem says Intermountain is currently about 130 percent more capacity than this time last year, with COVID cases down about 80 percent. .
In a new Q&A released Thursday, Stenehjem said these numbers are affecting Utah health care workers.
"Our nurses, our doctors, everyone's tired. They're exhausted, they drain mentally and physically, and there's no end point."
×
But related story
Other stories you may be interested in
Source link