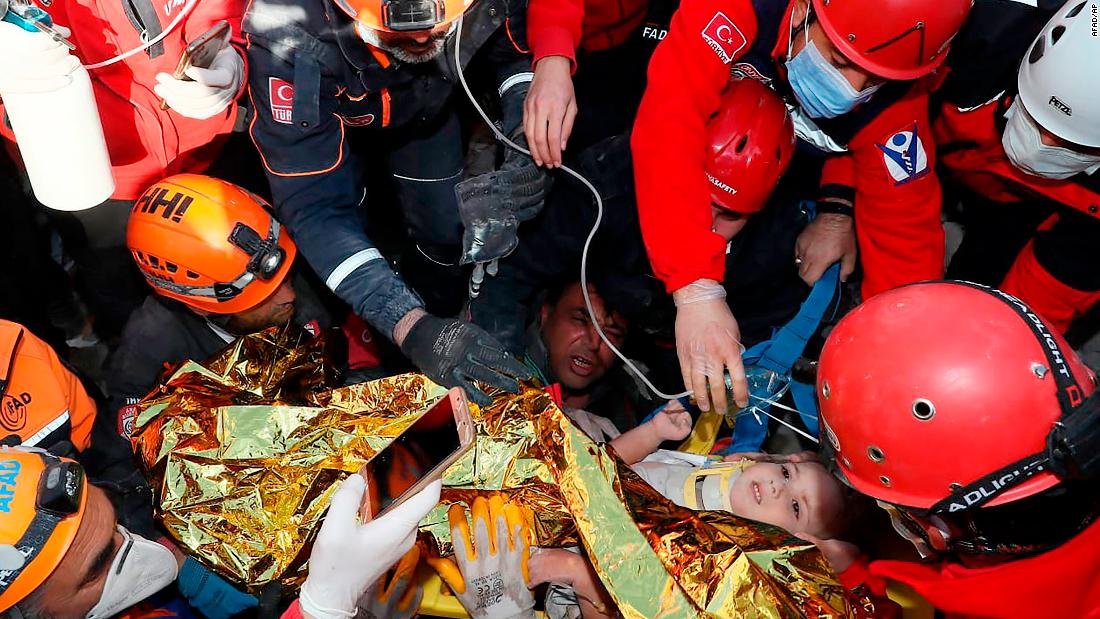 Rescuers found Ayda Gezgin next to a dishwasher that could surely shield her from the effects of the damage. The lifeguards call the space she is lying in the "triangle of life".
Ayda calls for her mother when she is on a stretcher to the ambulance. "Mom. I want my mother," she said.
Rescuers recovered Ayda's mother's body just hours after rescuing the girl, according to Turkish Emergency and Disaster Management (AFAD). She was lying next to Ayda under the rubble.
At least 105 people died and 1,027 injured in Turkey after the earthquake – measured by the United States Geological Survey (USGS) as 7.0 magnitude – occurred in the Aegean Sea on Friday, causing rocked areas of Greece and Turkey.
The earthquake struck 1
4 km (8.7 miles) northeast of the neon town Karlovásion on Samos, USGS reported, at a relatively shallow depth of 21 km (13 miles), making its impact strong. Strongly felt on the ground around the epicenter.
More than 1,508 aftershocks have been recorded since the first earthquake, 44 of which had magnitudes above 4.0, Turkey's natural disaster agency said. The quake also caused what the authorities call a "little tsunami", flooding streets on Friday in parts of Turkey's larger Izmir province, as well as in Samos.
"We heard her screams. We asked her what her name was … She said, 'I'm fine.' We asked her to wave her hand and she did, "rescue worker Nusret Aksoy told the press, who was describing moments before they reached the young girl.
Videos of search efforts showed rescuers cried, clapped and prayed as the 2-year-old was pulled out of the rubble and wrapped in a thermal foil blanket.
Ayda, who will turn 3 next month, appears alert and responsive, looking around with alert eyes. "We have started IV infusion for her but she is really good. She's awake, with no open wounds," said a member of the Turkish National Medical Rescue Team ( UMKE) told national broadcaster TRT.
The girl asked for water and Ayran, a Turkish yogurt favored by children, rescuers said. "The first thing she asked me was about her father," said the UMKE worker.
Turkish media reported that Ayda's father was not in the building during the earthquake. During search efforts, he is guiding lifeguards through his family's destroyed home, according to reports.
The girl was taken to the hospital where she is being treated, according to TRT.
News of Ayda's rescue comes just a day after another child was found alive under the rubble and rescued safely. Three-year-old Elif Perincek was pulled out of a collapsed apartment building on Monday after 65 hours under the rubble.
The emergency response management board said rescue efforts were underway at five of the 17 collapsed building sites in Izmir.
Source link