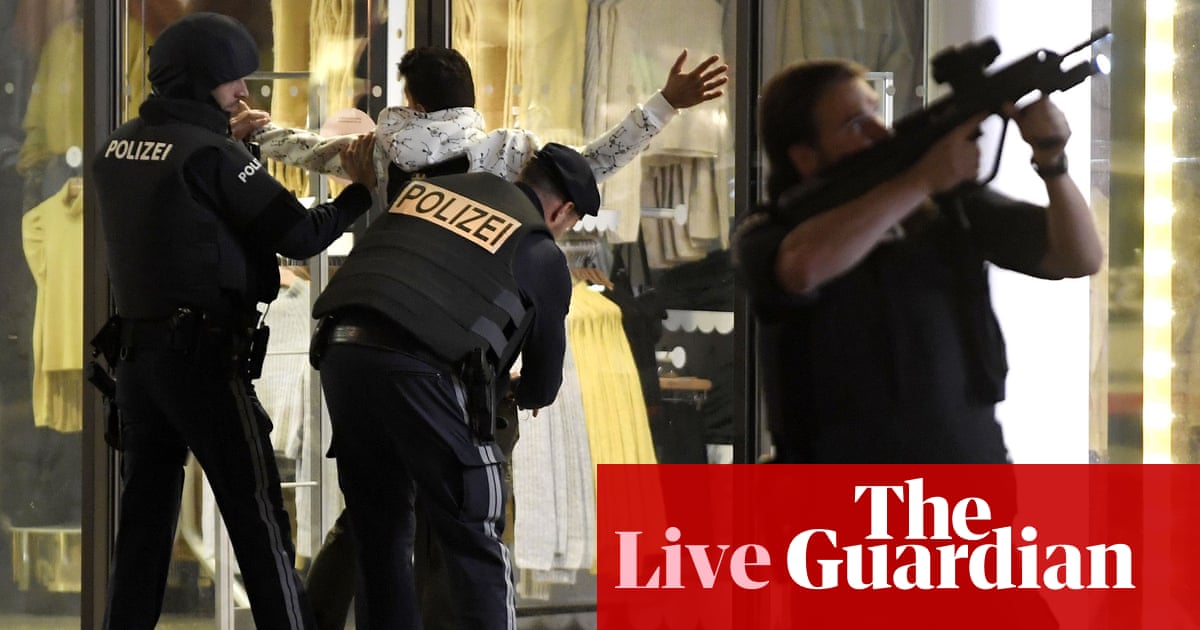 21:18
Here's more information from Rabbi Schlomo Hofmeister, who told London's LBC radio station that he was living on the campus of the synagogue in central Vienna.
"When we heard gunshots, we looked down (from) the windows and saw gunmen shooting at guests of different bars and pubs," he said.
"The gunmen were running around and shot at least 100 bullets or even more in front of our building," he said.
20:57
Please reiterate that you can contact me directly via email on helen.sullivan@theguardian.com or Twitter @helenrsullivan.
A big thanks to the people who wrote us letters. We hope to get more updates from those currently in Vienna throughout the night.
20:47
Mayor of Vienna: 15 people were hospitalized, 7 were seriously injured
Vienna Mayor Vienna Mayor Michael Ludwig said that 15 people were hospitalized, 7 were seriously injured. From what we understand, two civilians were killed in the attacks.
In case you're just joining us: Police say some shots were fired shortly after 8pm on Monday. (1900 GMT) on a vibrant street in downtown Vienna, and there are six shooting locations. Unconfirmed footage posted on social media shows gunmen walking through the streets, seemingly shooting at random, leaving some wounded.
The attack happened the last night before a new coronavirus lockout took effect in the city.
Interior Minister Karl Nehammer told public broadcaster ORF that the army had been required to guard key locations in the city to allow police to chase the gunmen.
Kurz praised the police for killing one of the attackers and vowed, "We will never let ourselves be threatened by the terrorist and will fight by all means."
20:39
The terrorist attacks in Vienna have been widely condemned by international leaders. Here's what some of them had to say:
20:34
In recent years, Austria has not experienced large-scale attacks in Paris, Berlin and London.
In August, authorities arrested a 31-year-old Syrian refugee suspected of trying to attack a Jewish community leader in Graz's second city, Reuters reported. The leader is not hurt.
20:30
We have some more information from Vienna Mayor Michael Ludwig about the second victim.
Ludwig told ORF television that a woman injured in an attack in central Vienna on Monday night died of her injuries.
Her death brought the number of civilians to two. It is understood that at least one attacker is dead.
20:28
A reader named Lea R wrote us a letter from Vienna's second district, Leopoldstadt.
"I am living in Karmeliterviertel, one of the largest Jewish communities (I am not a Jew myself). I am 22 years old and usually every evening in Schwedenplatz / Bermudadreieck and Donaukanal, in one of the many bars there, "she wrote.
"The situation right now is really scary, my phone rings continuously because people are so worried. It's heartbreaking to see my beloved hometown [like this]. "
She says the law firm where she works is asking her staff to work from home tomorrow. Her ex-boyfriend works for WEGA, the Austrian special force (Wiener Einsatzgruppe Alarmabteilung) and she said, "Right now I am worried a lot about his condition, as he is actively looking for terrorist."
One of her friends is sleeping the night in her office. Lea said the "continuous noise" of the helicopter overhead.
She gestured:



Greetings from Vienna, an unstoppable city. We will rise stronger than ever! Here there is no room for terrorism, either left, right or from the religious point of view. There's a reason why everyone says "Wien ist anders [Vienna is different, a common slogan in the city]".
20:16
The second commoner died
The mayor of Vienna, Michael Ludwig, announced that a second civilian was killed in the attacks tonight, Reuters reported.
20:01
The head of the United Nations, António Guterres, voiced out the "solidarity of the United Nations with the people and government of Austria".
In a statement posted online, his spokesperson, Stéphane Dujarric, wrote:



The Secretary-General was deeply concerned about the situation still unfolding in downtown Vienna, where violent attacks in several places were reported today, with at least one bystander killed and one others were injured, including members of the security forces. He sent his condolences to the victim's family and wished those injured quickly.

The Secretary-General strongly condemned these attacks and reaffirmed the UN's solidarity with the people and Government of Austria.
19:55
Vienna police have once again urged everyone to stay home, confirming that the incident is "still active" in a retweeted post two hours ago.
19:51
The Guardian understands that "some" people have died in the attacks tonight – something that was told by Interior Minister Karl Nehammer at a police press conference not long ago.
The authorities have yet to confirm the exact figure, but they did confirm that among the casualties were a civilian and an attacker.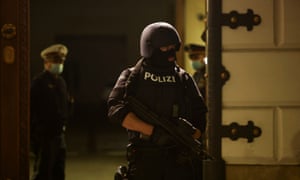 Updated

19:43
Canadian Prime Minister Justin Trudeau offered his condolences and called the attack "horror and heartbreak."
"We condemn in terms of the strongest possible acts of terrorism," he wrote on Twitter.