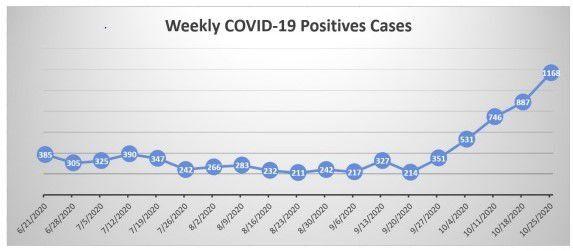 ELKHART – With the number of cases rapidly increasing and the rate of infection increasing, local health officials consider the spread of COVID-19 "out of control" and call for concern. more in preventing flare-ups.
Elkhart County recorded 234 new cases involving coronaviruses, according to the Indiana Department of Health. The daily tally from Tuesday comes only second from the previous day, at 238 and matches the total from October 28 and pushes the new case moving average to a new high of 204.
The average positive test rate in the county was 1
2.6% of all COVID tests; Of the individuals examined, the rate was 26.4 percent.
No new deaths were recorded, bringing the county total to 156.
According to Dr. Lydia Mertz, Elkhart County Health Officer, daily infection rates are part of a trend that shows coronavirus spread in the community out of control.
"The number of new cases each week has continued to increase almost exponentially each week since the end of September," she said. "The hospitals are full. Health care providers live in the community, are exposed in their lives outside of work and become infected, limiting an already strained workforce. Businesses and schools in the community are also experiencing workforce stress due to illness.
"There is no reason for this massive increase in cases. It's a failure for all of us – individuals, businesses, churches and governments, "said Mertz. "We all have to work to make our communities safe for all. Do your part! "
The number of new cases across the state also skyrocketed to new heights, with 3,756 cases a day. The seven-day positive rate was 8.7%; Among the individuals examined, the average was 16.7 percent.
25 new COVID-related deaths have been reported in Indiana, bringing that total to 4,224.
Source link