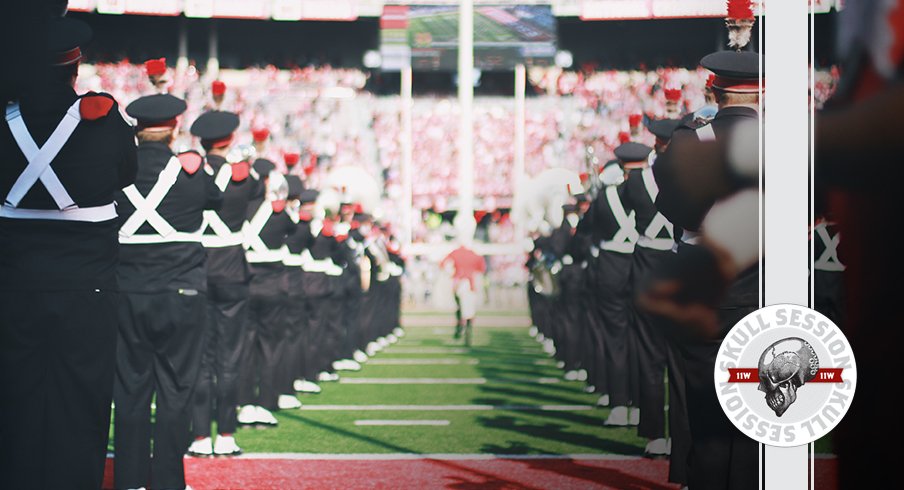 Reminder: times are weird, but Michigan still sucks.
Team up North, Lori, please don't use that word.
.
Love @ryandaytime #OhioStatefootball pic.twitter.com/VzoA6bqHju

– buckeyegirl (@ buckeye86355869) August 12, 2020
Word of the day: Aspiration.
YOU DO NOT SAY? As it turns out, the NFL is not *actually* will hold a mix of scout or draft in the middle of the college soccer season if everyone decides to switch the season to spring.
From @GMFB: If the majority of college football is delayed until Spring, the NFL break schedule will change dramatically. More here pic.twitter.com/Tp2GOUOqbP

̵

1; Ian Rapoport (@RapSheet) August 12, 2020
No matter what it has said in the past, the NFL is trying to do what it can to ensure there is a college football season, because when the impetus happens to push, it wants a college season over them. me.
I mean, do you really think they're just drooling with the idea of ​​drafting guys with limited tapes who haven't played a soccer game in 18 months? Take a look at any fake draft at the beginning of the season versus the end of the season and that should tell you just how desperate they want a season to be. Where do you think Joe Burrow is going? And everyone has chosen Jake Fromm as one of the top 10 picks.
The NFL wants to watch college players play. They want to see Shaun Wade actually play in a position where they'll pay him millions of dollars to play. They wanted to see Wyatt Davis grow. They wanted to see what the healthy Jonathon Cooper could do.
So if there is a spring, they will adapt to it.
Of course, this will only happen if * most * college football switches the season to spring. So as of now, the Big Ten and PAC-12 will probably just be over, which I'm sure will go very well with fans of those shows if that's how it ends.
MORE ELIGIBLE. In the good news, it seems the NCAA recommends maintaining eligibility for players whose most of their seasons have been affected by COVID-19, whether they opt out or miss more than half. his game number.
The Board recommended the board to provide the student-athlete fall competition and then opt out in the future or be cut short due to COVID-19: (1) an extension of time. their five-year eligibility; and (2) an additional season if they participate 50% or less of the maximum number of events allowed in each sport in accordance with Division I rules.
This makes perfect sense, but we're talking about the NCAA as well, so it doesn't really mean bad if it "makes sense." I mean, it makes sense for CJ Saunders to have an extra year of eligibility – or at least get a reply eight months earlier – but we all know how it plays out.
Also, it should be noted that these are just recommendations and nobody has any idea how this will work for spring, because everyone has ridiculously made it clear that they are. Absolutely not thinking about the logistics or the feasibility of a previous soccer spring like, vote to move forward with the same spring soccer season.
Everything is a disaster. Eat at Arby's.
BOARD PLAYING ON. If Ohio State's 2020 season is the Titanic, quickly sinking before our eyes without knowing a backup, TBDBITL is the famous Titanic band, playing the ship into the water.
Keep up with our fall semester updates here. #GoBucks

: https://t.co/4N2stG0mfo pic.twitter.com/0CHJMsCZQy

– Ohio State University Parade Band (@TBDBITL) August 12, 2020
If they wanted to stream the performance of the ramp and entrance Only one every Saturday this fall, I can promise you that they'll have at least one mediocre blogger following to give me at least a little bit of sense of normalcy.
PERSONAL IMPACT. I feel nauseous for every player not getting a chance this fall, but I especially feel for Jonathon Cooper, who has now had his final season eliminated for the second time.
The loss of a football season in #BigTen isn't just about the players at @OhioStateFB like Justin Fields. Meet @ JonathonCooper7. He is a 5th year student. Captain. And not knowing what the future of football is before his eyes. pic.twitter.com/JLnZf9yUph

– Matt Barrie (@MattBarrie) August 13, 2020
The expression of real confusion and sadness when they asked him about his future plans at 3:32 was nothing short of heartbreaking.
He will get better in life no matter what, because he's just an A + person. But being objective is bullshit when this happens to him, because he absolutely doesn't deserve it.
BARS HURTING. Football is the lifeblood of Columbus in the fall. And without it, a lot of business would suffer, like street bars.
Nick Schantz, a barista for Lucky's Stout House on High Street just south of Short North, just south of the campus, says the bar generates more than half of its annual revenue on game days.

"That is probably the case in 80% of the bars around here," Schantz said. "There would be a lot of people getting hurt here if it weren't for the soccer season."

Lucky would probably manage, he said, but some pubs and pubs might not exist.

On soccer Saturdays, students, alumni and fans stand shoulder to shoulder in the Varsity Club on Lane Avenue opposite the campus, night manager RJ Oberle said. Licensed restaurants and sports bars close the back street of the bar to treat overflow.

"We weren't happy about that, but we couldn't do much about it," Oberle said.
To be fair, even if there's a soccer season, they won't see the same crowd this fall. No problem, they're considering a big financial blow.
SONG OF THE DAY. "Piece of My Heart" by Janis Joplin.
DON'T DAMAGE TO SPORTS. The pandemic hoarding led to a nationwide shortage of Dr. Pepper … A teenager accused of murdering his neighbor to famous TikTok … How the submarine sonar hunt down the man The enemy they couldn't even see … actually wore … America's first serial killer … Why the tennis crowd had to be so quiet …