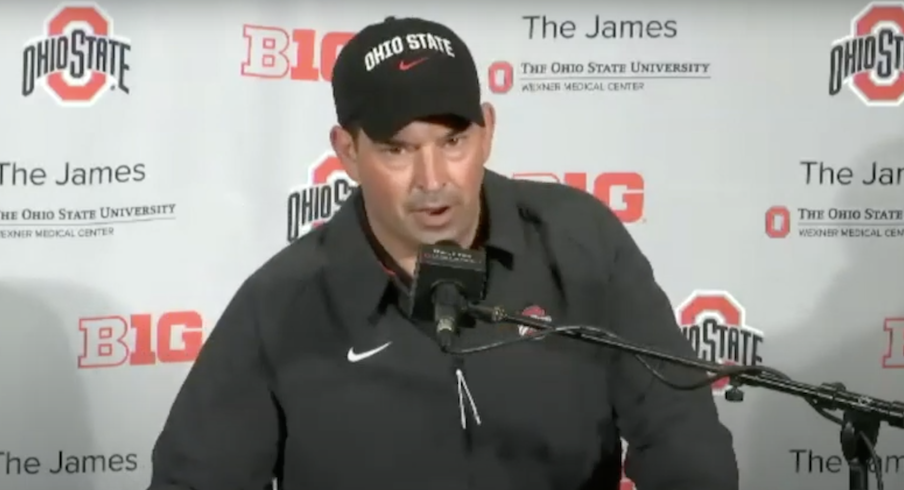 Not a lot of the second half went well.
However, Ohio state had the desired result: a 49-27 home win over Rutgers. Then head coach Ryan Day and several players ̵
1; Justin Fields, Justin Hilliard, Chris Olave, and Tuf Borland – joined the media to discuss their playstyle.
A rundown of what each of them has to say:
Ryan Day

"It's a story about two halves. Really proud of the way our boys come out and play. Said they "didn't do well" in the second half. Note the special teams and penalties are areas of concern in the game.

"We should have really dominated the first five or six minutes of the second half." That didn't happen, so backups were never imported.

Day said that without any juice in the stadium, the team must "bring our own energy" better in the second half of the matches. "We'll focus on that this week."

"I think in the first half, it was pretty good. I think we handled it well and ran after the ball. It was noted that there were some missed shots in the second half.

When he knew Fields would be a generation talent: "Pretty soon. I know he has a lot of potential. "

"Only disappointed in the second half."

Speaking of the last throw with Olave, "(Field) made it look like a 12-yard throw."

If he has seen many of these deceptive plays: "No. Especially kicks in the legs. It is like a sidewalk in New York. They went back and forth, back and forth ".

He said they knew Greg Schiano would be aggressive. "We didn't quite know it would be all of that."

"We make no excuses." Say they need to clean up the penalties and other errors.

On defending the scam: "I think we did a great job." He said his team was prepared for what happened. "We don't always worry about that. We need to be drastic ". He pointed to a fake game that the State of Ohio had successfully used.

Day said he wanted to go back to the movie and find out what happened. "I think if we practice better, we'll do better."

"It was a strange season. It was a strange week. There are many things playing. "Say they will do what they can to stay healthy and beat Maryland.
Justin Fields

On the Ohio State offense: "I don't think we're at our peak."

Say they are focused on improving and reaching their peak: "I just hope we can do it and hope it's enough."

On his short pass to Chris Olave: "It worked like a scramble drill."

"Honestly, I think we can get better in every way." Say they'll watch the movie and see what highlights it needs to work.

He said that he is unsure whether the offense has progressed.

"I feel like I'm just trying to get out there and do my best." He says he's better on "all aspects" of the game.

Calling Demario McCall "an active player". Says he is a "great leader" for this team. "I feel like we can use him in many ways."

About if he thinks he's going to be in the game for too long: "Honestly, no." He said Day talked in the dressing room about putting too many points in the second half.

About Garrett Wilson: "You all just see what he does all the time."

Fields said he feels he's improved since Week 1. However, he doesn't know how to determine that by any number.
Justin Hilliard

He said that the entire season has been devoted to continuous improvement. "It's great to be back there."

"That's what we're going to work on," Hilliard said. That's what we will fix. "

He said he suffered a minor injury in Week 1 but was good to go into Week 2 before being false positive. "Too bad, but we are continuing."

On missing out on Penn State: "Obviously there was a disappointment, a little bit of anger." Saying he had to put that aside to support his teammates.

On his compulsive fumbling and recovery: "That's what we practice."

Hilliard says he is trying to impress his teammates how important it is to realize how precious every moment is. "Live in the moment and do every game, every practice."

"There is a great sense of urgency." He said they knew they couldn't "take a game off." Think it is important to play one game at a time.
Chris Olave

About what's working in the game is passing: "There are too many chemical reactions." Said all jobs for the season will "show up" for the first three games.

"We've had great ends with Luke (Farrell) and Jeremy Ruckert." Say they open up a lot on the outside for wide receivers.

Olave says they want to "stick with Buckeye football" when offended.

How Fields improved this year: "I feel like he's more comfortable making mistakes."

His touchdown: "Justin threw a dot."

Say they know they need to "close it" better.
Tuf Borland

He thinks that the State of Ohio is off to a good start as expected by the team.

"It's hard to comment on what exactly happened when you haven't seen the movie." He said the first half was clearly good and the second half was different.

Said it was a "very, very different week" coming on Monday and Tuesday off this week, but he said they couldn't use it as an excuse.

"We are all very heartbroken for him." He said that the energy Hilliard brings on every day is one of the reasons why he means so much to this show.
Source link