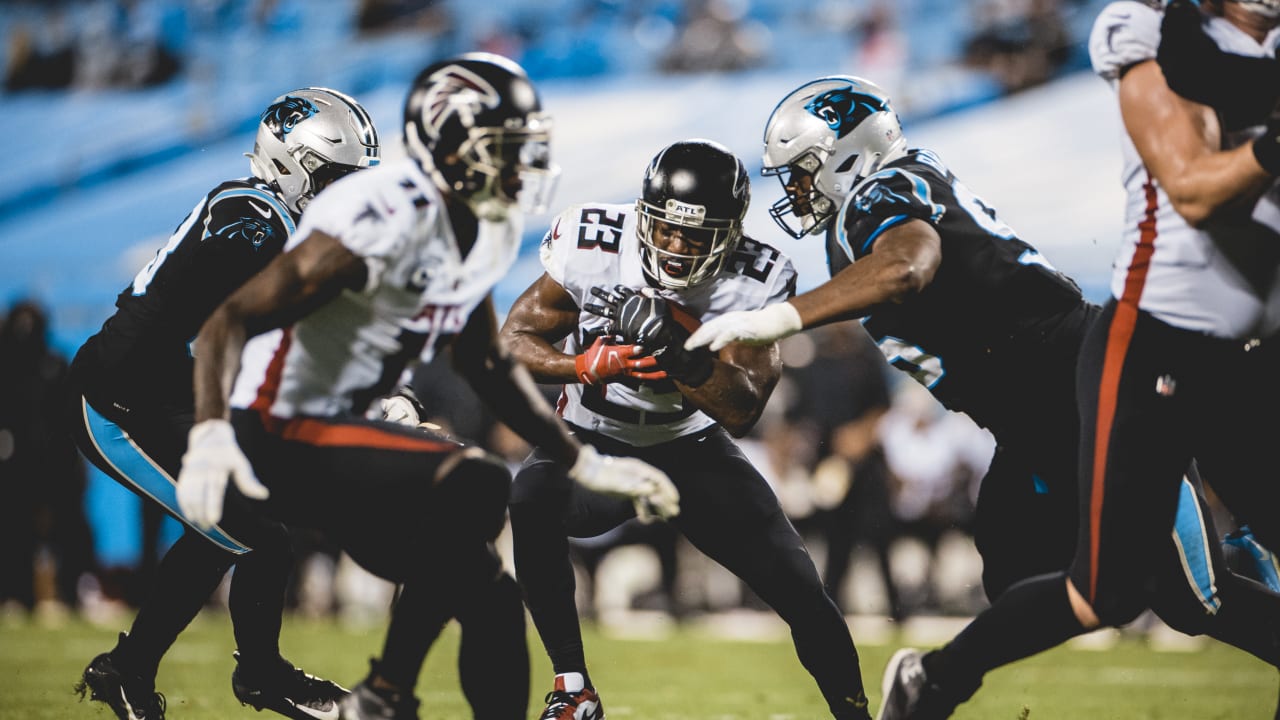 CHARLOTTE – The Panthers failed in their quest to find a comeback in the fourth quarter, falling to Falcons, 25-17.
A week after New Orleans never fought Carolina, Atlanta played only once, controlling most of the match.
Defender Teddy Bridgewater had to retire in the middle of the third half after receiving an illegal hit but was re-entered in the fourth half to end the match.
With the loss, Carolina is now 3-5 on season.
Here are a few quick responses from the contest:
On Tuesday and Saturday from Atlanta 37, Bridgewater advanced in his pocket before he was intercepted by defender Dante Fowler. He was flagged for reaching out to take out Bridgewater, but defender Charles Harris made a worse foul. As Bridgewater is going down, Harris takes the lead with his right shoulder to hit Bridgewater in the head.
Bridgewater lay down for a while before getting up and running out of the yard on her own to be judged in the green medical tent.
Backup midfielder PJ Walker took over and the Panthers completed that blow with one goal.
Bridgewater was evaluated for a concussion and rite deletion. He also suffered a neck injury but resumed the match with 9:49 left in the fourth half, after Walker started Carolina̵
7;s next game.
While the Panthers struggled to complete that possession, Bridgewater put the foul on goal to score the goal in the last minute. But in match 3 and 6 from Atlanta 30, Bridgewater's deep pass to DJ Moore's wide end on the left flank was blocked by corner defender Blidi Wreh-Wilson.
The Panthers did not allow many touches of the ball when Falcons entered the red area, but the defense did not prevent Atlanta from reaching much scoring positions.
Six of Atlanta's first seven possessions ended in points, the only exception being defender Donte Jackson's interception in the second quarter.
Falcons striker Younghoe Koo connected goals at 20, 37, 36 and 29 yards to give Atlanta the lead. Full-back Matt Ryan also contested a 13-yard touch in the second half.
But the dam broke in the fourth half, when Todd Gurley ran again limited to an 11 run, 75 yard run with a 3 yard touch. Gurley mainly controlled the ball but carried the ball in the last three innings with 6, 8 and 3 yards to score. Koo missed the extra points, keeping the lead 25-17.
The Panthers were eventually forced to stunt at the end of the fourth quarter. Defender Stephen Weatherly took out Gurley for a 4-yard defeat on his first kill. After an incomplete pass in the second down leg, Gurley ran out of line in an inexplicable way after taking a 5-yard advantage in the third and 14th half to stop the clock at 3:05.
Source link