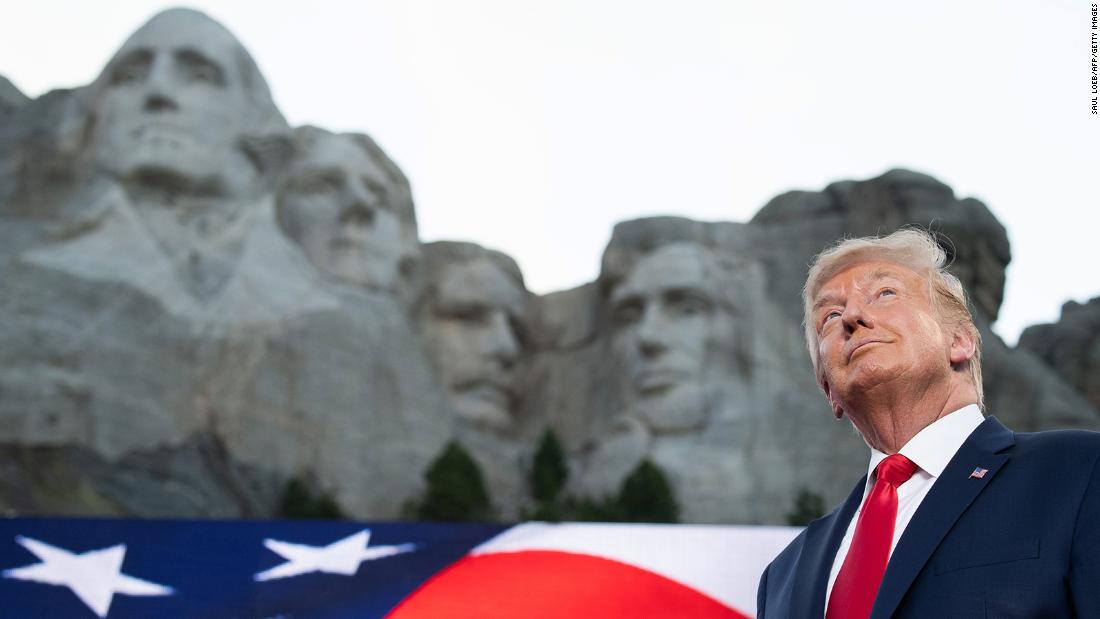 According to an acquaintance who spoke to the Times, Noem then greeted Trump when he arrived in state to attend the July 4 celebration at the memorial with a four-foot-tall replica of Mount Rushmore featuring his face.
Noem noted before Trump's "dream" of having his face on Mount Rushmore, the 60-foot-tall Coolidge-era sculpture of Presidents George Washington, Thomas Jefferson, Abraham Lincoln and Theodore Roosevelt.
According to a 2018 interview with Noem, the two started a conversation about the Oval Office sculpture during their first meeting, where she initially thought he was joking. "I started laughing,"; she said. "He's not smiling, so he's completely serious."
"He said, 'Kristi, come here. Shake my hand, and I shake his, and I said,' President, one day you should go to South Dakota. We have Mount Rushmore. ' And he said, "Do you know my dream to have my face on Mount Rushmore?"
Trump also toyed with the idea of ​​bringing himself up Mount Rushmore in 2017 at a campaign rally in Youngstown, Ohio.
In his July 4 speech to supporters in South Dakota, Trump fiercely defended Mount Rushmore – where activists and indigenous tribal leaders have long criticized history and its purpose – saying it will "forever be an eternal tribute to our ancestors, and our freedom."
"As we meet here tonight, there is a growing danger that threatens every blessing that our ancestors fought hard," Trump warned.
A White House official noted to the New York Times that Mount Rushmore is a federal, not state relic.
Source link