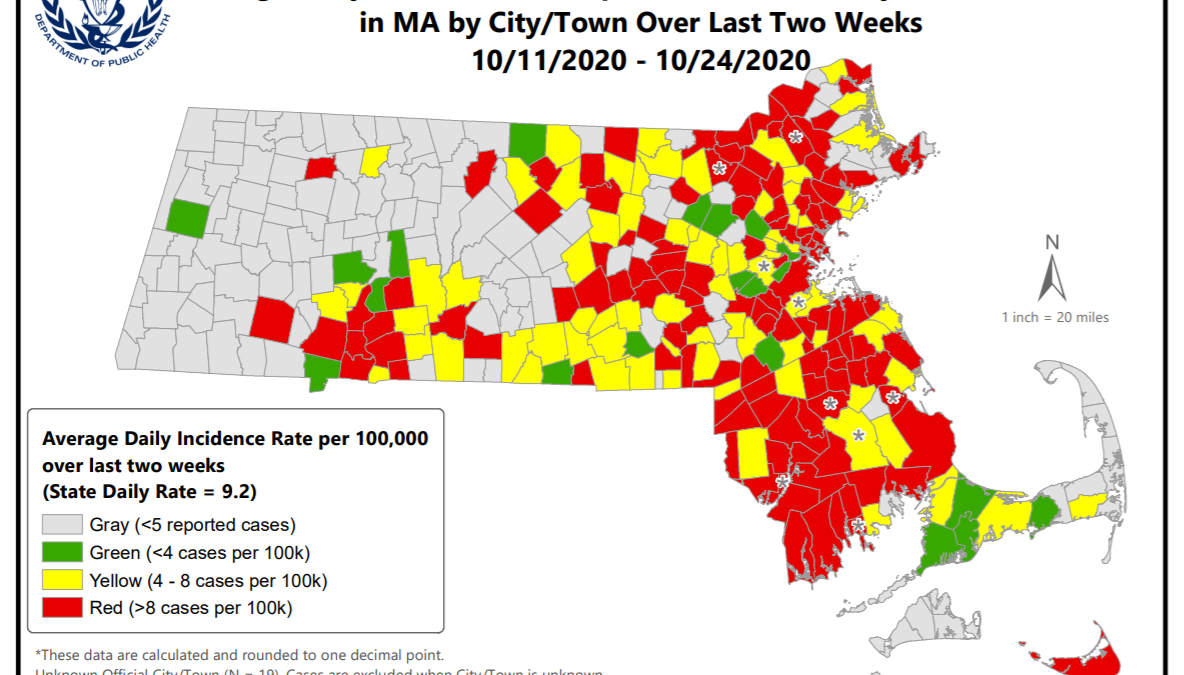 Massachusetts' latest weekly community-level data on the coronavirus pandemic, including the updated individual town's COVID-19 risk assessment map, shows vast red patches because 121 communities are currently considered most at risk of transmission, up from a total of 44 from the previous week.
That means more than a third of the state's 351 communities are in the red zone of the map. Fifty-four communities joined the list this week while 10 have moved off the list. And the 15 communities that are consistently red will have to go back to Stage 3, Step 1 of the plan to reopen Massachusetts.
This week's report by the Ministry of Public Health includes new data on COVID-1
9 clusters and the origins of new cases, showing that nearly 3,000 new clusters have been identified since the end of September. Last week's report has been modified to include data on individual outbreaks, requiring its release to be rescheduled from Wednesday to Thursday.
Download our free mobile app for iOS or Android to receive the latest breaking news and insights about COVID-19.
Data, from the Department of Public Health, include breakdowns of total coronavirus infections in each Massachusetts city and town., as well as new maps and more data. See it here.
See Volume of each Town. Coronavirus Risk Map
The following communities have the highest risk level as of Thursday: Abington, Acushnet, Agawam, Ashland, Athol, Attleboro, Avon, Bedford, Bellingham, Berkley, Beverly, Billerica, Blandford, Bolton, Boston, Boxford, Braintree , Bridgewater *, Brimfield, Brockton, Buckland, Canton, Chelmsford *, Chelsea, Chicopee, Clinton, Cohasset, Danvers, Dartmouth, Dedham, Dighton, Dover, Dracut, East Brdgewater, East Longmeadow, Everett, Fairhaven *, Fall River, Fitchburg , Foxborough, Framingham, Freetown, Gardner, Georgetown, Gloucester, Granby, Hanover, Hanson, Haverhill, Hingham, Holliston, Holyoke, Hubbardston, Hudson, Kingston *, Lakeville, Lawrence, Leicester, Leominster, Littleton, Lowell, Lynn, Lynnfield, Malden, Mansfield, Marlborough, Marshfield, Medford, Mendon, Methuen, Middleton, Milford, Nahant, Nantucket, New Bedford, Newburyport, North Andover *, North Attleborough, Northborough, Norton, Norwood, Palmer, Peabody, Pembroke, Plymouth, Randolph, Raynham, Revere, Rochester, Rockland, Salis bury, Saugus, Seekonk, Shrewsbury, Somerset *, Southborough, Springfield, Swansea, Taunton, Tewksbury, Townsend, Tyngsborough, Wakefield, Waltham, Wareham, Webster, West Boylston, West Bridgewater, West Springfield, Westborough, Westfield, Westport, Westwood, Weymouth, Whitman, Wilmington, Winchester, Winthrop, Woburn, Worcester and Wrentham
Asterisks indicate a local organization made up at least 11 cases in the community, and those cases accounted for 30% or more of the community's total cases over the past two weeks.
Because they have been on the list for three consecutive weeks, the following communities must move on to Step 1 of Phase 3 of Massachusetts' reopening plan starting Monday: Abington, Berkley, Canton, East Longmeadow, Fairhaven, Fall River, Hanover, Hanson, Hingham, Marshfield, Milford, Pembroke, Rockland, Wakefield and Weymouth.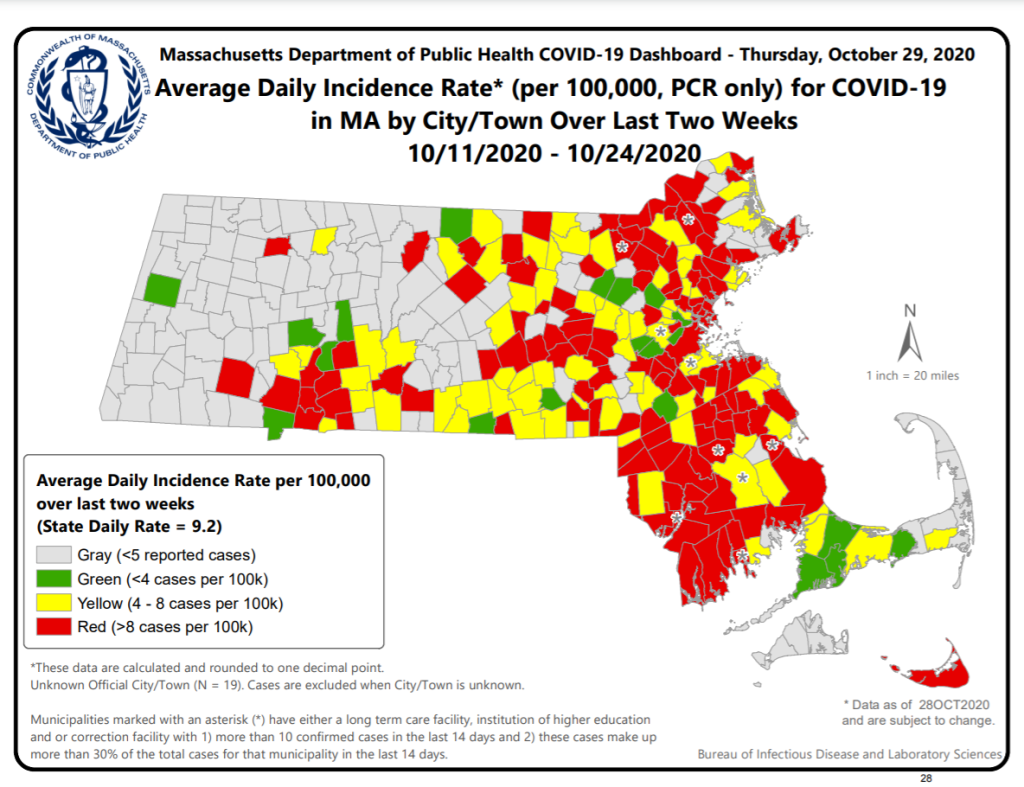 The map shows the average number of detected cases per day for the past two weeks in each Massachusetts community. More than 8 cases per 100,000 turn high risk and shade red, 4 to 8 cases per 100,000 are moderate risk and less than any event is low risk.
There are 121 cities and towns highlighted in red on this map, up 57% from last week's map. There are 77 communities on that map, including data from Oct. 4 to 17, up 14 communities from last week.
These 54 communities have just been added to the list since last week: Agawam, Athol, Bedford, Bellingham, Beverly, Billerica, Blandford, Bolton, Braintree, Bridgewater *, Brimfield, Cohasset, Danvers, Dartmouth, Dedham, Dighton, Dover, Dracut, East Bridgewater, Fitchburg, Foxborough, Freetown, Gardner, Georgetown, Granby, Hubbardston, Lakeville, Leominster, Littleton, Mansfield, Medford, Mendon, Nahant, Nantucket, Newburyport, North Attleborough, Northborough, Norton, Palmer, Peabody, Salisbury, Southborough, Swansea, Taunton, Tewksbury, Townsend, Wareham, West Boylston, West Springfield, Westborough, Westwood, Whitman, Wilmington and Winchester
And Amherst, Auburn, Dartmouth, East Bridgewater, Holbrook, Littleton, Nantucket, Southborough and Sunderland have left the highest levels of risk since last week.
Read this week's full report here, with percent community positivity data, county and state data, and more.
New data on batch COVID clusters
This week, Governor Charlie Baker said the latest report will include "more data on COVID clusters and where new cases come from."
That data showed that 2,945 coronavirus clusters were detected between September 27 and October 24. The majority were related to households and they resulted in 8,208 confirmed cases.
The state identifies clusters that have at least two COVID-19 instances associated with one location and it considers useful information for finding out where people are infected.
As of September 27, all but 238 of the identified clusters have been associated with households. Long-term care facilities have follow-up clusters, 59.
Changes to the Massachusetts Highlight Map
Massachusetts has now changed the way coronavirus metrics are measured over time and this month has brought in two important improvements that may address the concerns of some small communities.
Before this week's additional cluster information report, last week was the first to include coronavirus clusters in facilities such as prisons, colleges, and nursing homes. Such outbursts have pushed communities into that red zone before.
"This addition of identity acknowledges the impact of a particular organization or establishment on the number of community cases and provides valuable information for citizens and city leaders to consider when implementing policy in their community, "the state's COVID-19 Response Command Center said in a statement at the time.
According to the command center, having an asterisk does not change whether a city or town can move forward or backward in Massachusetts' reopening plans or if more people can regroup with together. The asterisk does not change red or yellow status.
Color-coded town-by-town data was introduced in August, and the Baker administration announced that the state would focus its strongest COVID reduction efforts on towns in the red group. Communities can only move on to Step 2 of Phase 3 of Massachusetts' reopening plan, announced at the end of September, if they are inconsistent in the red.
Before the map was introduced, the rate of COVID testing positive for the previous 14 days was the standard for measuring hot spots. The Public Health Department's weekly report still includes that information, along with other metrics such as how many tests are being performed locally and how many cases have been reported locally.
However, some of Massachusetts' smaller towns have had problems with being classified based on cases per capita.
They said that, when a town has only a few thousand inhabitants, an outbreak in just one household can cause it to turn red, identified by eight COVID-19 infections per 100,000 residents.
When asked earlier why he prefers to use cases per capita instead of the positive percent, Baker said the latter does not take into account that some people are tested multiple times.
"We have a lot of repeat testers in our data, a lot of them doing it again for work-related reasons," Baker said.