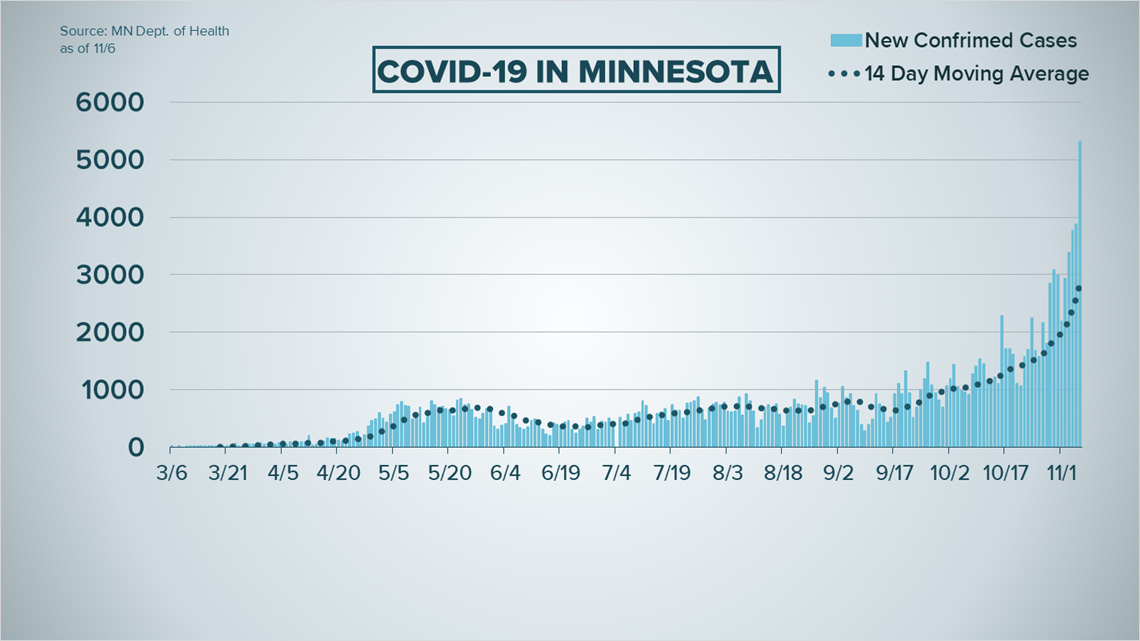 The state set Friday's one-day peak in both new cases and deaths.
ST PAUL, Minn. – Friday, November 6
Minnesota surpassed its previous daily high by nearly 1,500
ICU is running at nearly full capacity in Minnesota
AstraZeneca is expected to provide COVID-19 vaccine test data later this year
Minnesota Department of Health (MDH) Commissioner Jan Malcolm spoke at a press conference Friday after the state reported new daily highs in both COVID-1
9 cases and deaths.
Currently, 986 people are hospitalized for COVID-19 statewide, 56 more than the day before, Malcolm said. Two hundred and twelve of them are in the ICU.
With the rise in cases, MDH is focusing on protecting people in long-term care and life support, Malcolm said. She said, in early May, the state had "beefed up" its work on the matter with a 5-point plan to make the facilities safer and to flare "more exceptions than average. often."
MDH's Director of Medical Regulations Michelle Larson has updated on how her department has tackled each point of the five-point plan to help support long-term care facilities.
Extensive testing of COVID-19 for residents and workers. Larson said the ministry has developed a process for facilities to request testing. Eight cotton swab teams are contracted statewide, and since April, more than 750 facilities have been jointly inspected through the State Emergency Operations Center.
Provides testing and troubleshooting support. Larson said it created streamlined procedures to get testing and support resources for facilities across the state, and started a line of nurse sorting that provides results. Test and advise establishments on what next steps should be taken.
Personal protective equipment (PPE) is brought to the facility. MDH has been bringing PPE including gowns, masks and gloves to the facilities since spring, according to Larson.
Ensure the arrangement of enough personnel. Larson said MDH has set up a crisis staff management team to solve problems and connect facilities with human resources. The MDH also helps establishments plan ahead for the staffing crisis. They also helped "develop staff" by reaching out to a media campaign to people currently unemployed by the COVID-19 pandemic.
Partnership leverage. Larson said MDH has been working with local health care systems, hospitals, emergency medical services and public health to establish partnerships that can help staff facilities. , networking, consultation and more.
"Even the best flood retaining walls can fail if the water rises high enough," says Malcolm.
Although the work MDH is doing to protect long-term care facilities is going strong, officials remain concerned about the impact of the rising case rates, she said.
"As incidents continue to increase, residents and employees in these facilities are at serious risk, even as these facilities continue to act aggressively," Malcolm said. "Their good jobs cannot completely isolate residents from the high rates of transmission in the communities around them."
Malcolm says progress made in long-term care runs the risk of not being undone, as most facility outbreaks start with one case coming from the community.
Annette Greely, president of Jones-Harrison Residence in Minneapolis, says the testing has helped her facilities better control COVID spread. She said they were in a state of continuous buying of PPE.
Testing, PPE and infection control are their strategies for keeping COVID-19 active this winter, Greely said.
"The only other tactic we need is the support of Minnesotans to take measures to limit the spread of the virus," she said.
Greely says her industry is still grappling with a workforce shortage and an estimated 10,000 jobs are still in the long-term care and life support sectors. She encourages anyone looking for a job to consider working with their seniors.
"You are going to make a real difference in someone's life," she said.
The ICU capacity in the Twin Cities metro is getting more and more limited and slightly better in the larger Minnesota, Malcolm said. "Things are completely getting tighter in Minnesota," she said. A week ago there were 36 vacant beds, and this week the number dropped to 17 at times and hovered as low as 20, she said. It's important to consider the need for an employee bed, not just a "theoretical bed," says Malcolm.
"The hospitals are very busy during the summer and fall with patients who do not have COVID," Malcolm said. "Now, the added COVID-19 growth in cases is bringing our hospitals close to maximum capacity and staffing is becoming a growing problem."
Malcolm said she hopes the rapid rise of cases will help people who have become "paralyzed" with the effects of COVID-19 to be more serious and follow public health guidelines.
"Literally, literally thousands and thousands of small decisions happening across Minnesota are the problem here," says Malcolm.
MDH Infectious Diseases Director Kris Ehresmann said her message to the Minnesotans was: "You must make a change. Your choices are affecting the capacity of our healthcare system to serves you and others who need it. "
Malcolm says the potential for a back-dial and the introduction of increased restrictions in Minnesota "is definitely an ongoing discussion."
"Despite the growth in testing capacity, we still have more demand," says Malcolm. Part of their goal, she says, is to get the tests closer to people, as there is likely to be no use. MDH efforts in this area include saliva testing centers and pop-up community testing.
But Malcolm also said that as Dr. Birx of the White House's Coronavirus Task Force pointed out when she visited Minnesota, testing capacity needed to be further enhanced to perform proactive screening, finding those who didn't. symptomatic and positive for COVID- 19 "to achieve this."
Figures released by the Minnesota Department of Health (MDH) on Friday continue the trend that has raised state officials' concerns, with new COVID cases rising to a record 5,454. This is nearly 1,500 more than the one-day record set on Thursday.
Test volume was high with 45,769 assays processed (44,749 PCR, 1,020 antigens) in private and public laboratories, and the case numbers were jarring, but not out of prediction. MDH Commissioner Jan Malcolm said Wednesday that Minnesotans people can expect to see more than 4,000 cases as transmission in the community moves the virus across the state.
Friday's reported deaths marked another high for a day, with 36 Minnesotans losing their lives from the coronavirus. That brings the total number of deaths in the state to 2,591. Of these, 1,800 deaths, equivalent to 69% of which were due to long-term care or support in the environment.
Total hospital admissions for the virus are now 11,193 since the outbreak of the pandemic, with 2,864 patients needing care at the ICU. The MDH reported that 139,190 people at one time who tested positive for COVID-19 recovered to the point where they no longer required isolation.
Those 20 to 24 years old make up the largest proportion in the state with a significant proportion, 20,250 people with one death. The age group from 25 to 29 accounts for 16,417 cases and 3 deaths, followed by the age group from 30 to 34 with 14,990 cases and 9 deaths.
The largest group of deaths in Minnesota involved people aged 85 to 89 years, with 464 deaths in just 2,262.
Hennepin County reports the most COVID activity in the state with 40,559 and 1,016 deaths, followed by Ramsey County with 16,971 and 392 deaths. Dakota County reported 11,938 cases and 144 deaths.
Cook County in northeastern Minnesota had the least recorded COVID activity with 32 cases and no deaths, followed by Lake of the Woods County with 58 cases and one death.
New data from the Minnesota Department of Health (MDH) shows some degree of combined or distance learning currently recommended statewide for the first time.
Weekly school guidance data released Thursday shows that the COVID-19 case rate per 10,000 people is high enough for the state to recommend full distance training in 34 of the state's 87 counties. the highest number since the state started providing data at the end of the summer.
Another 38 counties are eligible for combined instructional instruction for elementary schools and distance learning for high school students, including Hennepin and Ramsey counties in the Twin Cities metro area.
For the first time, no county was included in the state's recommendation for full face-to-face learning.
State officials have stressed that this case data alone does not automatically identify the learning plan or any changes for a particular county or district; the data are used as a guide in each district or school's decision-making process.
According to the state's Safe Learning Plan, county case data leads to five recommended learning models:
0-9 houses per 10,000: Direct learning for all students
10-19 houses over 10,000: Direct learning for primary school students, hybrid study for high school students
20-29 houses over 10,000: Blended learning for all students
30-49 houses over 10,000: Combined learning for elementary students, distance learning for high school students
50 cases or more over 10,000: Distance training for all students
Once again Minnesota broke its own record for the number of new COVID-19 infections identified in just one day.
The Minnesota Department of Health (MDH) reported a total of 3,956 new cases on Thursday, breaking their own daily record for the third consecutive day.
That number is a sum of 3,872 "confirmed" cases by PCR assay, and 84 "probable" cases identified by antigen test.
MDH also reported 25 COVID deaths over the past 24 hours, bringing the number of deaths in Minnesota to 2,555.
The new record comes a day after MDH Commissioner Jan Malcolm warned the public they would continue to see more than 3,000 new cases per day and should increase to 4,000 per day.
"We are lagging behind in the rapid spread of this virus," Malcolm said on Wednesday. "Gathering in a group of people right now is dangerous."
The MDH reported on Wednesday that the Twin Cities metro was close to reaching ICU capacity at 98% and statewide ICUs at 92% full. As of Thursday, 11,016 people have been hospitalized in Minnesota due to COVID since the pandemic began. Among them, 2,839 are in the ICU.
Cases continued to increase among young people aged 20-24, by far the largest group of confirmed cases with 19,700. MDH has warned many times that young people are carrying the virus, often without symptoms, contributing to the rapid spread in Minnesota. The MDH said that contagion is starting to reach Minnesota's long-term care facilities again this week.
KARE 11's coverage of the coronavirus is rooted in Truth, not Fear. Go to kare11.com/coronavirus for comprehensive coverage, learn what you need to know specifically about the Midwest, learn more about the symptoms and see which businesses are opening up as the state slowly lift restrictions. Have a question? Message us at 763-797-7215. And get the latest coronavirus updates delivered right to your inbox each morning. Sign up for the KARE 11 Sunrise newsletter here. Helping local families in need: www.kare11.com/give11.
The State of Minnesota has established an online data portal at mn.gov/covid19
Source link