Update 11:37 am
A bad week continued to get worse with the COVID-19 epidemic in Minnesota.
The Ministry of Health on Thursday reported 3,956 new confirmed or probable cases – new one-day high and record new cases for the third day in a row; 25 more people died.
More than 900 people are lying in hospital beds in Minnesota due to COVID-19, with more than 200 in need of special care, both near record highs. The average number of people hospitalized is about 146 people per day, up from 56 people a month ago.
The new cases are developing faster than the new test for the first time since May.
The latest numbers come a day after Minnesota Health Commissioner Jan Malcolm called the state's current COVID-19 rise "disturbing and alarming" as she prepared for the Minnesotans for the bad days. worse coming.
"It feels like we're losing land, comparing the rampant rampant across Minnesota and neighboring states to a wildfire," she told reporters Wednesday. "We are lagging behind because of the rapid spread of this virus."
Of the 164,865 confirmed or probable pandemic cases so far, about 84 percent have recovered to the point where quarantine is no longer needed.
The reported death toll on Thursday brought Minnesota's death toll to 2,555. Of those who have died, about 70% have lived in long-term care or assisted facilities; most have underlying health problems.
Caseload increases in age groups
New cases increased significantly over the past month in all age groups.
20s still make up the age group with the largest number of confirmed cases in the state – nearly 35,000 since the pandemic began, of which more than 19,000 are aged 20-24.
The number of confirmed secondary school age children has also increased, with a total of more than 13,700 cases in children aged 15 to 19 years since the pandemic started.
These numbers help explain why experts still pay special attention to adolescents and young people who spread the virus.
Although less likely to feel the worst effects of the disease and end up in hospital, experts fear youth and young people will spread the disease to grandparents and vulnerable people. other. It is especially worrying because people can become infected with coronavirus and spread COVID-19 when they don't have symptoms.
The virus spread along Minnesota's western border
By region, central and northern Minnesota drove the majority of the recent increase in new cases while Hennepin and Ramsey counties showed some of the slowest increases in the state.
Newly reported cases are highest in northwest Minnesota. Cases are on the rise now in Dakotas. North Dakota and South Dakota have the lowest rates of difference per capita in the country.
North Minnesota, once the least affected area by the epidemic, has also seen a significant increase in numbers in recent weeks.
In general, rural areas of Minnesota continue to report the latest COVID-19 cases.
Latino letters, native leaps and bounds
In Minnesota and across the country, COVID-19 has attacked communities of color with difficulty in both case and death.
That is especially true of Hispanic Minnesotans. They, along with black Minnesotans, are also hospitalized and transferred to intensive care units at a higher rate than the general population.
Similar trends are true for Indigenous Minnesota residents. Number of Indigenous people increased in October compared to population.
The October data also showed that new confirmed cases were on the rise among Latinos in Minnesota.
Mistrust of government, coupled with deeply rooted economic and health disparities, have hindered efforts to promote screening among communities of color, especially among non-immigrants. papers, people concerned that their personal information could be exploited to deport them.
'Minnesota is in a bad position'
The latest numbers continue to show pervasiveness across Minnesota, not just confined to one region or demographic group. just like before in the pandemic.
Officials say it is currently being driven by informal gatherings and meeting with the family and friends of the Minnesotans, where it spread unknowingly by people with the virus but without symptoms.
The capacity of the hospital is increasingly tight as the cases are increasing. The special care beds in the Twin Cities metro are now at around 98% capacity; Statewide director of Infectious Diseases Kris Ehresmann said statewide, it's a little less.
The overall numbers continue to paint a disturbing picture of a rapidly worsening epidemic in Minnesota.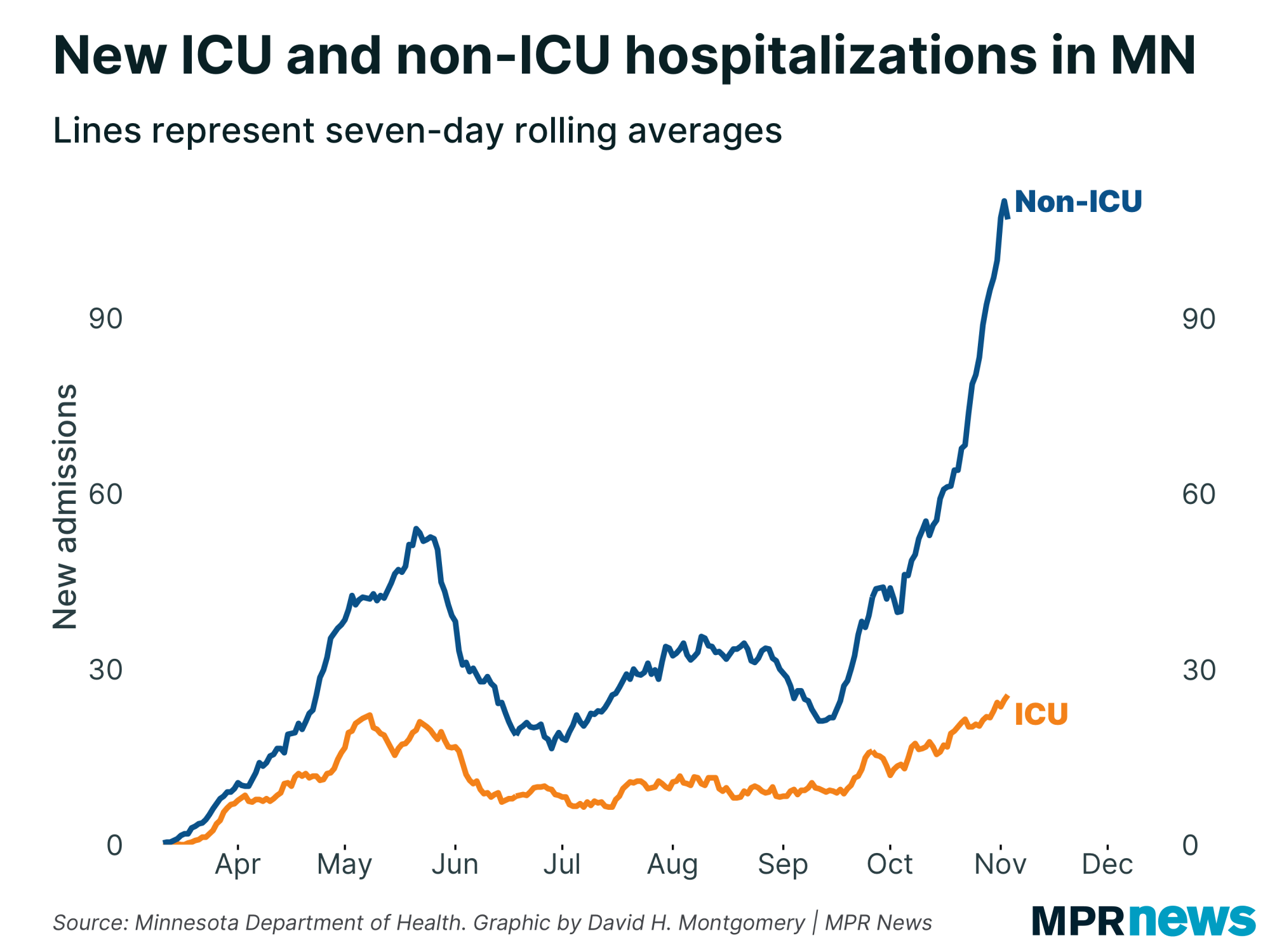 Caseloads has skyrocketed over the past few weeks, resulting in a large number of hospitalizations and deaths.
State authorities were worried that late summer and early fall gatherings, sporting events and intimate gatherings would fuel a surge in October as Minnesotans lost sight fight against viruses. That happened and now it's over to November.
"Minnesota is in a bad state … and it will get worse before better," Ehresmann told reporters on Monday as she begged Minnesotans to wear masks in public gathering places. , social distance and other measures to prevent the spread.
While more trials are uncovering more cases, "it is not the experiment that matters," said Ehresmann. "The reality is we have so many viruses circulating in our state."
The number of COVID-19 infections in the state is so high that Governor Tim Walz this week requested federal assistance, including additional medical staff, for hospitals and long-term care facilities.
Minnesota's problems are multiplying amid record outbreaks between its eastern and western neighbors. An explosion turned October into one of Minnesota's worst months during the pandemic that spilled into November.
Medical investigators are increasingly finding people with COVID-19 are reluctant to provide details that could help track the path of the disease, she added. "This just accelerates the spread more and more," she said.
"If we were wondering what others would do to fix this COVID issue, then we are missing points," Malcolm said on Monday.
Malcolm told reporters last week that the rampant spread is being driven by "thousands of seemingly trivial decisions" that the Minnesotans make daily to meet and gather with others without wearing. Mask, stay away from social or take other steps to stop the spread.
She reiterated on Monday, noting that cases among health workers are increasing rapidly. They gain exposure in the community and bring it into their healthcare workplace.
"It's not just one or two big notable events that caused this incredibly high level of community contagion. It was a good hour with some friends, brunch on weekends. It's the wedding, "says Malcolm of the ordinary interactions that are currently creating big problems. "These are the scenarios that fueled the spread."
---
Developments around the state
Officials encouraged measures to prevent COVID during deer surgery
With the Minnesota deer hunting season kicking off on Saturday, state health officials are urging hunters to take measures to prevent the infection or spread of COVID-19.
Kris Ehresmann, state infectious diseases director, "If you are hunting with people outside of your immediate household, cover your masks while indoors", including inside camp buildings. deer, "and keep a distance of 6 feet inside and out". , said Wednesday.
She urges the hunters to stay home if they are not feeling well.
– News Officer MPR
MN opens saliva testing sites for the Wisconsinites
As COVID-19 infections rise eastward, Governor Tim Walz has opened saliva testing sites in St. Minnesota, according to the Minnesota Department of Health. Paul, Winona and Duluth for people living in Wisconsin.
Minnesota is investing at least $ 14 million from its federal CARES Act funding in saliva coronavirus testing, a procedure developed at Rutgers University and marketed by Vault Health.
Public health officials say this is a relatively easy and quick way to test for viruses for more people.
Some of Minnesota's CARES Act grants will be used to cover the cost of the test, and Minnesota is drafting an agreement to ensure Wisconsin covers the costs of testing for its residents.
– Catharine Richert | MPR News
---
Top headlines
Farm quarantine: 6 tips for forming your COVID-19 winter shell: One strategy to get through these winter months is to create what is known as a shell, experts say. But finding people you're willing to join and who share your standards is easier said than done.
---
COVID-19 in Minnesota
The data in these charts are based on the cumulative total of the Minnesota Department of Health published at 11am daily. You can find more detailed statistics on COVID-19 at Ministry of Health website.
You make MPR News possible. Personal contributions are behind the clarity in coverage from our reporters across the state, the stories that connect us and the conversations that provide perspective. Help ensure MPR remains a resource that brings the Minnesotans together.
Donated today. A gift of $ 17 makes a difference.