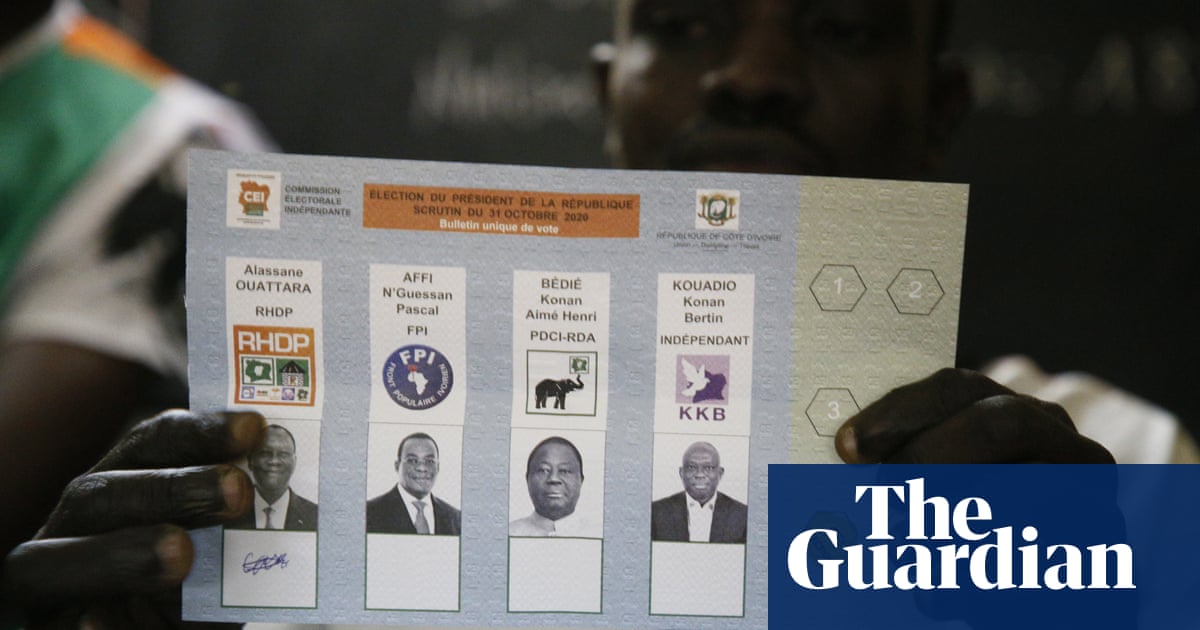 Alassane Ouattara won a third term in power in the Ivory Coast after an election boycotted by the opposition.
The 78-year-old president, who pledged to pave the way for the younger generation, won 94% of the vote. Two terms in office are considered by many to be a limit set by the 2016 constitution of the West African nation.
The main opposition candidates denounced Ouattara̵
7;s attempt to win a third term as illegal and have called on their supporters to stay home as an act of civil disobedience.
The political crisis has caused the Ivory Coast to be lost since the July death of Ouattara's successor, Prime Minister Amadou Gon Coulibaly. Ouattara was supposed to leave office but denied his commitment, saying the constitution did not prevent him. The disqualification of 40 opposition candidates and criticism from his two main rivals has increased tensions in a country where the specter of electoral violence has always existed.
Thousands of people have fled to Liberia, Ghana and Togo in recent weeks, fearing the possibility of similar post-election violence that killed 3,000 people in 2010. During the Saturday polls, Protests against Ouattara have risen, especially in the strongholds opposition. Clashes with rival groups and strong reactions by security forces have killed at least 30 people, according to Amnesty International. Five more people were killed on election day. In a sign of increasing tensions about the vote, Outtara's two main rivals said their home had been shot at night.
The Carter Center, a US non-governmental organization that monitors the election, expressed "concerns that the overall context and process does not allow for a truly competitive election".
It added: "Ivory's process of eliminating some political forces and is hindered by the active boycott of part of the population and a volatile security environment".
The Election Commission said early Tuesday that Ouattara received 94.3% of the vote. According to election officials, the turnout rate was 53.9%, although the opposition said only 10% of ivory voters participated.
Former Prime Minister Pascal Affi N'Guessan, a top rival to Ouattara, said the result was not legal. "This is a fake election … ruined by many anomalies and low turnout rates," he told reporters on Monday when it was clear that Ouattara would win. N'Guessan vowed to form an alternative "transitional government", deepening political tensions with Ouattara's government.
"Opposition parties and groups announce the establishment of a national transition council," N'Guessan told reporters. However, divisions within his political party, the Popular Ivory Front, and among other high-ranking figures in the opposition weakened, put the plan into doubt.
Presidential supporters cite a 2016 constitutional change which they say meant Ouattara's first term did not count.
Amid growing insecurity over much of West Africa, third-term tenders and attempts to amend the national constitution have reappeared in recent years in Guinea, Gambia and the Ivory Coast. . These moves have aroused disillusionment, especially among young people who seek greater representation in government, transparency and freedom.
Ouattara, a former rebel leader, along with both major opposition figures, the 86-year-old former president, Henri Konan Bédié and 67-year-old N'Guessan, is one of the older political classes that have maintained their restraint on the Ivorians. politics for many years.
Ouattara was an internationally recognized winner in the controversial 2010 election when the then president, Laurent Gbagbo, refused to admit defeat. Both of them held their own inauguration and the standoff lasted for months until Ouattara supporters captured Gbagbo from his underground bunker.
Gbagbo was later acquitted of crimes against humanity in international criminal court, although prosecutors are appealing the decision. Critics say Ouattara's government has failed to reconcile the nation, focusing on prosecuting the crimes of Gbagbo loyalists.
The president, an ally of Western governments, including its former colony, France, has international support. However, despite substantial economic growth, fueled by its robust agriculture, more than half of the country still lives in poverty, according to the World Bank.
Source link