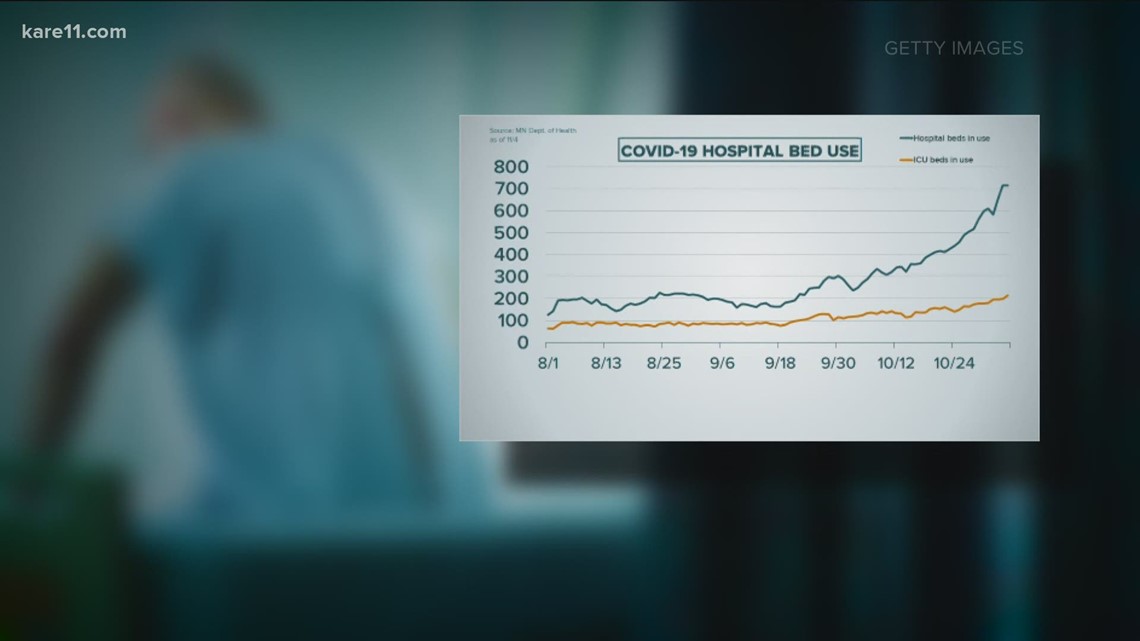 MINNEAPOLIS – Coronavirus infections continue to increase in the Midwest and here in Minnesota.
Dr. Rahul Korrane said: "As of today, one in five ICU patients are COVID-19 patients.
Dr. Korrane, who belongs to the Minnesota Hospital Association, said as the number of COVID-19 patients increased in medical and surgical units across the state, hospitals in the region were also watching. increase in patients with COVID-19 in ICU.
Minnesota Health Department officials say ICU beds in Double City are at 98% and 92% in larger Minnesota. Dr. George Morris said: "We have about 20% of patients or people with COVID-1
9, and that's a staggering number, for people with one disease and that number is very high. big.
Dr. George Morris is Centracare Medical Incident Leader – which serves the central and western regions of the state. He says there is concern that the total number of virus-related hospitalizations has now reached more than 11,000 – with more than 28,000 COVID-19 patients in need of ICU care. "Now, we have one in five patients with the same disease, all with the same core disease," Morris said. "Which leads to many patients asking for ICU care that leads to completeness.
Dr. Morris said the hospital team has already started transferring COVID-19 patients to smaller rural hospitals and several other ICUs in the region. "We cannot send our ICU patients to Minneapolis, Duluth because they are full," said Dr. Morris.
Health officials are now recommending people to take precautions so that hospitals don't get overloaded.
Doctors say it is normal for a large number of patients to come to the ICU during the fall and winter months. They urge people to wear masks, keep social distance and reduce crowds to keep people at risk and health care workers safe.
Source link