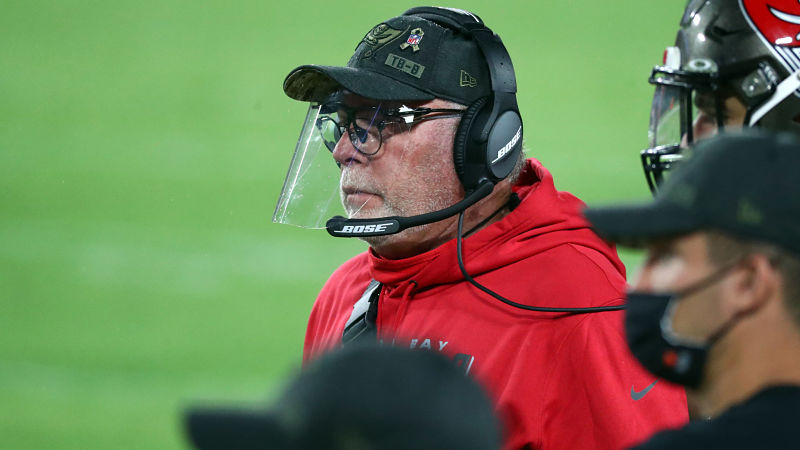 The Tampa Bay Buccaneers had the opportunity to make the statement under the bright lights on Sunday night.
Instead, Tom Brady and Co. has laid an egg.
The Buccaneers, who entered Week 9 with a three-win streak, was leveled by NFC South rival New Orleans Saints at Raymond James Stadium. Tampa Bay could only muster a total of 194 yards with a 38-3 foul against Saints, who sealed off a series of regular season games for the team.
The shooting marked the worst divergence of Brady's career. The 43-year-old struggled strongly against New Orleans, completing 22 of 38 attempts to get past 209 yards without touches and three interceptions. The Saints also brought Brady back in Week 1 when Drew Brees and Co. won 1
1 points at the Mercedes-Benz Superdome.
After the game, head coach Bruce Arians was asked if he was worried about Brady's worst performance this season against stronger opponents. Arians didn't sound too worried, but he didn't skip the question either.
"I think that's how you are usually judged," Arians said, according to the scoreboard provided by the team. "We played quite well against Green Bay and were really bad against New Orleans."
Don't look now, but controlling the ship won't be easy for the Bucs. On deck was a game against the nasty Panthers in Carolina, followed by a golden-hour tilt with the defensively defensively Los Angeles Rams. The Bucs will then host the defending Super Bowl champion Kansas City Chiefs in Week 12.
Of course, the sky didn't fall over Tampa Bay, but maybe Bucs soon crowned NFC favorite.
Thumbnail of Kim Klement / USA TODAY Sports Images