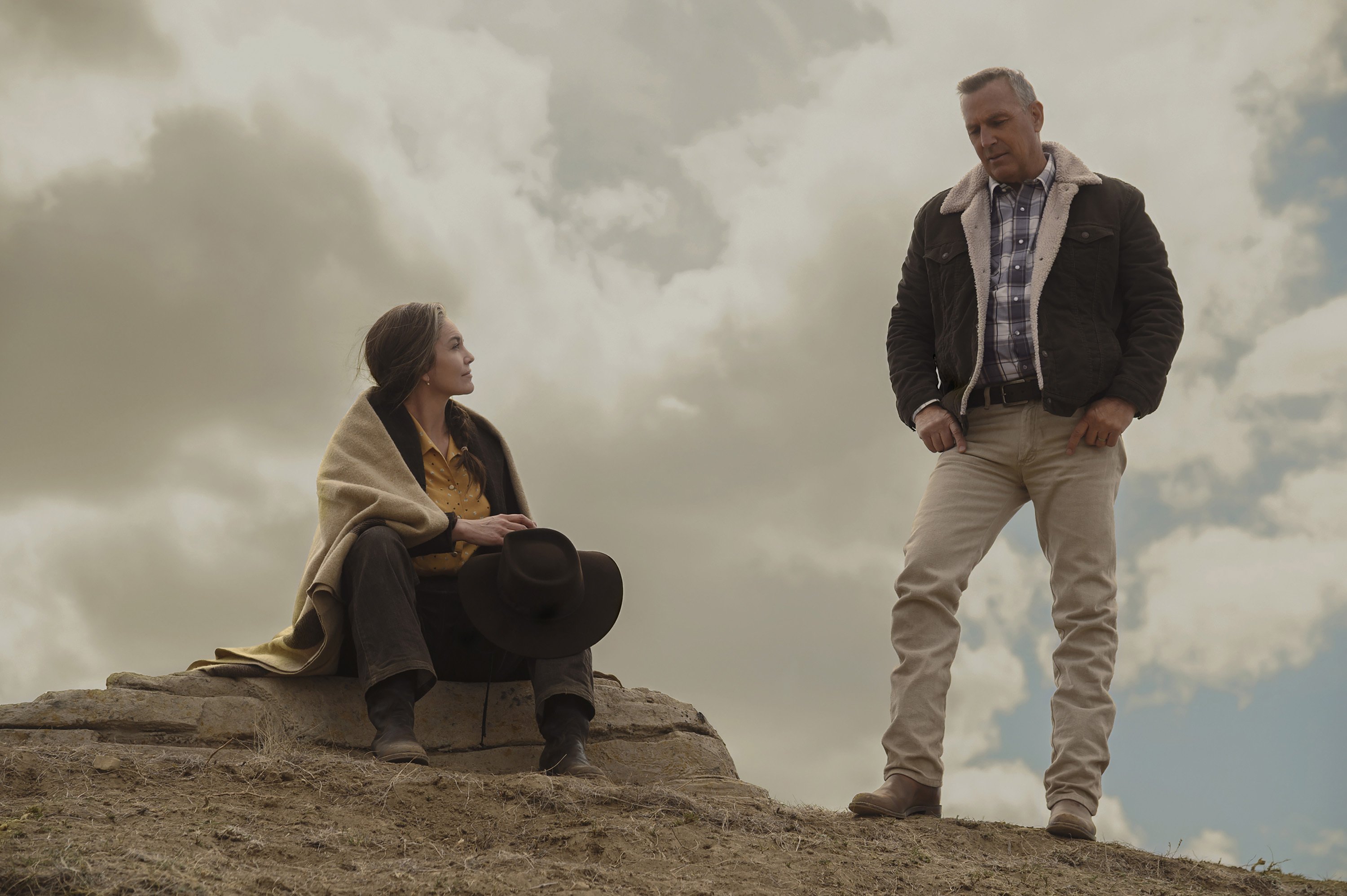 Superman, that boring tab, was lucky enough to fly into the barn. Writer and director Thomas Bezucha's western horror film "Let Him Go" reunites Diane Lane and Kevin Costner, who easily become the warmest presenters of "Man of. Steel "is boring.
They were together again in "Let Him Go," This time in the front and center but also retired and live close to the land. And the pairing is also good. Both Lane and Costner, live and mundane performers from the start, only add depth with age. As long-married Montana ranchers in "Let Him Go"
; (which hits theaters on Friday), they are essentially the pure ideal of an ancient, homeland Americana. They can sell you a ton of jeans if they want.
In Bezucha's film, adapted from a novel by Larry Watson, they are Margaret and George Blackledge, and the opening scenes have ominous harmony. Their son, James (Ryan Bruce) returns from the field to eat breakfast, turn on the radio and dance with his wife, Lorna (Kayli Carter) and their newborn baby. If there was a trace of discord, it was the moment Lorna put her son under the tap so hot that Margaret had to take the baby away at first sight probably wasn't her blame for her daughter-in-law. . It's an early sign: "Let Him Go" may be set in the familiar, tense Western plains, but it's about motherhood.
In a series of rapid events, James was killed in a horseback riding accident. Bezucha cut three years later, when Lorna remarried in a small, unhappy ceremony. Soon after, Margaret saw her new husband Donnie (Will Brittain) beating both mother and child on the street. Before she had time to answer it, she found her family had suddenly moved out of their new apartment. Margaret started packing the Chevy station wagon. She'll go looking for them, she said. George, a former lawyer, stepped in.
At this halfway point, "Let Him Go" was good. As two childless, sad characters passing through the Western landscape, the Blackledges seem to be carved from the myth of Elegiac. They are trying to make up for the losses they feel are clinging to in their lives. "Sometimes that's all life, Margaret," said George. "List of what we've lost." That's a stronger impression by Lane and Costner, both of whom are returning to the genre they've seen before but from a different point of view in life. (Costner is more identifiable to Westerners with "Dances With Wolves", "Wyatt Earp" and others, but don't forget Lane in "Lonesome Dove.")
Their search leads them to North Dakota where the dark reputation of the Donnie family, the Weboys (pronounced "boys"), begins to surround them before they cross national boundaries. Their finding may seem uncertain, but they manage, and during a menacing dinner, they meet with the Weboys. Their clan, too, comes with a formidable matriarchy in Blanche (Lesley Manville, which brings a dramatic burst of drama to another controlled movie), a much more violent and sinister consequence for Margret.
But the clash of two families was managed awkwardly. The Weboys group, including a grinning father (Jeffrey Donovan) and two other brothers, never go clear. It is unclear what they are talking about, except that they are bad news, and their cruelty appears in the form of extravagant, bizarre gestures in uncertainly defined roles. What seemed set up for a slow brawl between rival giants vanished in blunt penalty shootouts that left Lane's Margaret in the wrong time. Margaret is the lead, and it's Lane's movie even if the movie forgets it momentarily.
"Let Him Go", a release of Focus Features, was rated R for violence by the American Film Association. Running time: 108 minutes. Two and a half stars out of a total of four stars.
___
Follow AP Film Writer Jake Coyle on Twitter at: http://twitter.com/jakecoyleAP