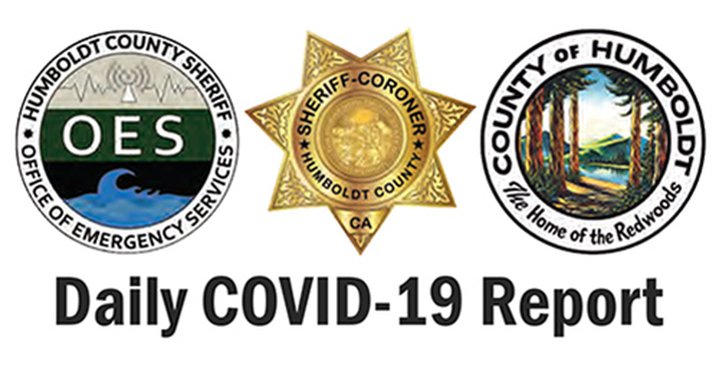 Press release from Humboldt County General Information Center:
A total of 599 county residents tested positive for COVID-19, after seven cases were reported today.

Humboldt County Health Officer, Dr. Teresa Frankovich encourages people to get tested as soon as possible if they are having symptoms of COVID-19. "To be effective in controlling the spread of COVID, early detection is best," she said. "Get checked as soon as possible when you find out you are sick by contacting your healthcare provider."

For cases where a healthcare provider is not available, please contact the General Information Center at 707-441

-5000 for assistance. Dr. Frankovich adds: "Checking early when you're sick and getting regular checkups when you're not sick can help detect COVID-19 early, helping protect everyone in our community.

Symptoms of COVID-19 may include cough, fever, headache, sore throat, vomiting, diarrhea, and / or loss of taste or smell. For a complete list of symptoms, visit cdc.gov/coronavirus/2019-ncov/symptoms-testing/symptoms.html.

For the most recent COVID-19 information, visit cdc.gov or cdph.ca.gov. Local information is available at humboldtgov.org or during business hours by contacting covidinfo@co.humboldt.ca.us or by calling 707-441-5000.

Humboldt County COVID-19 Data Dashboard: humboldtgov.org/dashboard,
Follow us on Facebook: @ HumCoCOVID19,
Instagram: @ HumCoCOVID19,
Twitter: @ HumCoCOVID19 and
Humboldt Health Notice: humboldtgov.org/HumboldtHealthAlert

###
= historical data. All data are from the Humboldt County General Information Center.
Data from CalREDIE. The zip code not listed has encountered five or less cases. Zip code population from the US Community Survey, 2018.