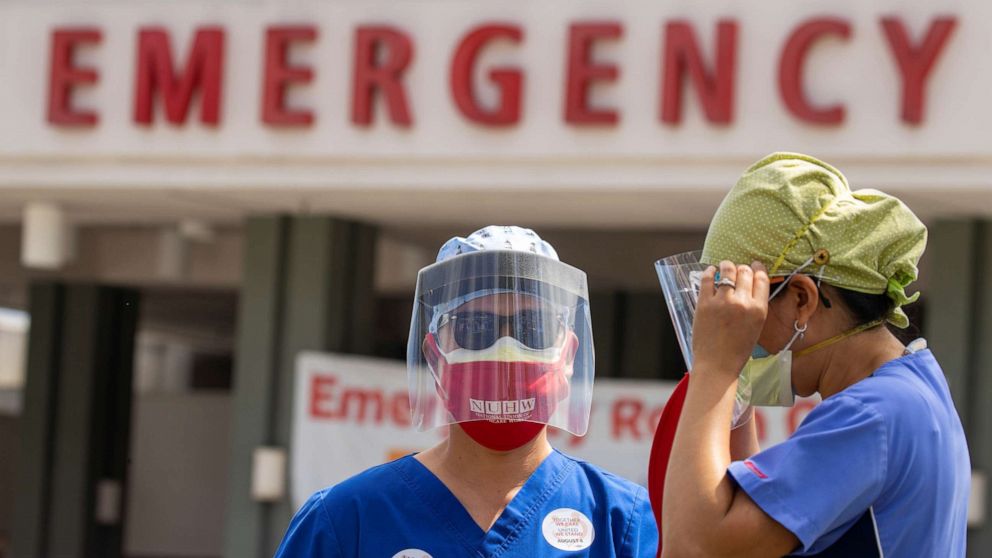 The United States has at least 167,242 deaths from COVID-19.
This new coronavirus has now killed more than 753,000 people worldwide.
Nearly 21
million people globally have been diagnosed with COVID-19, a disease caused by the new respiratory virus, according to the Center for Systems Science and Engineering at Johns Hopkins University. The actual number is believed to be much higher due to the lack of testing, many unreported cases, and suspicion that some national governments are hiding or downplaying their outbreaks.
The United States is the most affected country in the world, with more than 5.2 million diagnosed cases and at least 167,242 deaths.
Latest title:
CDC says up to 200,000 deaths are on Labor Day
Cases in the United States decreased by week
This is how news is evolving today. All Eastern Era. Please refresh this page to update.
8:55 am: Doctors believe the baby has COVID-19 infection in the womb
According to doctors at a Texas hospital, a newborn is believed to have been infected with COVID-19 through the mother's womb.
Dr. Mambarambath Jaleel, who runs the neonatal ICU at Parkland Hospital in Dallas, Texas, said it could be the first baby in the nation to get infected in such a way, according to the WFAA, affiliate of ABC Dallas.
According to the WFAA, the baby's mother tested positive for COVID-19 in April and had to give birth early, although it's not clear if COVID-19 plays a role in preterm birth.
When the baby was born, the doctors ran two tests for coronavirus and the baby was both positive, Jaleel said. Doctors also examined the mother's placenta.
"Having a positive placenta test result, the most likely explanation is that transmission of the infection is when the baby is still in the womb," Jaleel told WFAA.
The baby starts to have a fever and needs oxygen; however, the baby is now at home and healthy with the mother.
05:33 am: CDC: Up to 200,000 people die during Labor Day
The Centers for Disease Control and Prevention predicted in its latest forecast that the number of coronavirus deaths in the United States could reach 200,000 on Labor Day when children across the country return to school. .
Its national overall forecast predicts that 4,200 to 10,600 new COVID-19 deaths will be reported for the week ending September 5 and a total of 180,000 to 200,000 new COVID-19 deaths will be reported on that date.
Last month, the CDC predicted there would be between 160,000 and 175,000 deaths by August 15. As of August 13, with more than 1,000 deaths per day for more than two weeks, there were 167,097 deaths.
The United States surpassed 100,000 deaths from COVID-19 on May 27.
According to a Federal Emergency Management Agency report obtained by ABC News, the number of new cases continued to decline across the country over the past week, but the new death rate has increased year on year.
There were 7,517 deaths recorded between 5 and 12 August, a 2.3% increase in new deaths from the previous week. The national test-positive rate remains at 6.5%.
ABC News analyzed the state's coronavirus trends across all 50 states, Washington DC and Puerto Rico, and found an increase in cases in two states (Hawaii and Illinois) and Puerto Rico, increasing the rates positive daily in 15 states plus DC, increased hospital admissions in 19 states and increased daily deaths in 23 states, DC and Puerto Rico.
Things to know about coronavirus:
How it started and how to protect yourself: Coronavirus explained
What to do if you have symptoms: Symptoms of corona virus infection
Track the spread in the US and around the world: Corona virus infection status map
ABC News' Brian Hartman, Josh Margolin and Arielle Mitropoulos contributed to this report.
Source link