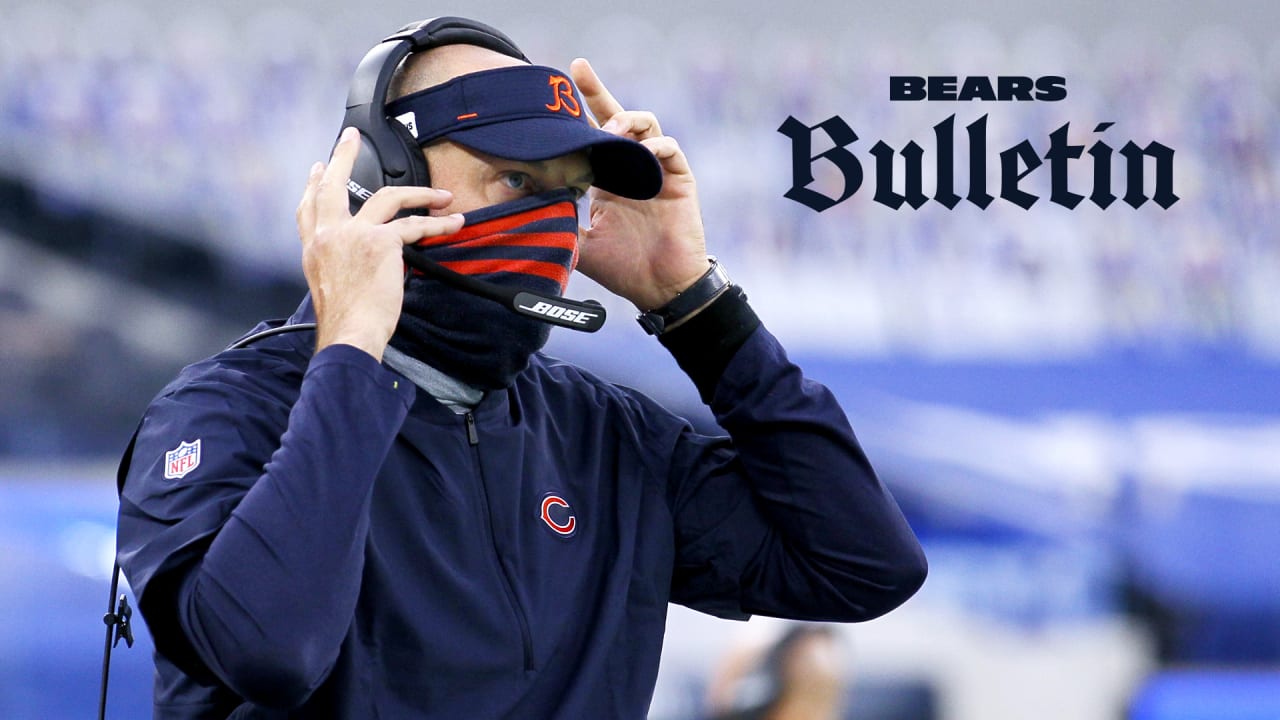 The Bears shut down Halas Hall and halted all personal football activities on Thursday morning after learning that one of their players tested positive for COVID-19.
After conducting video meetings during the day, the team entered the evening in a detention model, waited for the NFL to confirm the test positive and completed the contact tracing process.
"I hate to give a timeline because I don't know that answer, but we hope sometime tonight we'll be clearer on some more details about where we̵
7;re on the team and Our players, "coach Matt Nagy told reporters late Thursday afternoon. "Once we know that, then we can go ahead and decide until tomorrow, what are our plans for meetings? What is our training plan? And I'm sure. Surely the federation will inform us of what they propose when we take this step. "
At this point, it's still unclear how a positive COVID-19 test will affect the Sunday match between the Bears and Titans in Tennessee. Of course, the Bears hope to practice on Friday, but first they have to get more information from the NFL.
"I don't know that yet," Nagy said. "We hope that we can do it. I will wait for a phone call, hopefully tonight and that our players stay involved in looking at their phones to know the possibility of having a meeting to let them know.For now, we will contact them tonight to let them know tomorrow's schedule. Once again, we are just waiting for an answer. is all we can really do. "
On Tuesday, Bears put attacking midfielders Germain Ifedi and Jason Spriggs on the bench / COVID-19 and put Bobby Massie on the injured reserve, where he joined left-back James Daniels and ran Return to Tarik Cohen. If the Bears does practice on Thursday, six players won't be able to participate and three people will be limited. By 2020, the spell is clearly not just "next man" but also "hand in hand".
"We told the younger guys, some on the practice team, we've been telling them all year round, this is one of the best years you should be ready," Nagy said. "You know your playstyle better and you should be ready to step up because you will have a chance."
Nagy declined to reveal how many players and coaches could have been closely related to the player with a positive test result, but the coach said he was not one of them.
The Bears shut down Halas Hall on Thursday morning immediately after it was discovered that the test was positive. Defense coordinator Chuck Pagano was in Zoom's interview with reporters when he informed them that he had to abruptly end the call.
"There's a process for it and that's kind of place [the NFL is] right now, "Nagy said." We just want to let them do it, and while they do that, we want to make sure, 'hey, with that done, go ahead and go home right now, make sure that everyone is fine, deep clean the building and can continue with our position until we have more answers about our location and then we can hope to get the answer tonight and know what will happen tomorrow. "
Nagy praised how Bears handled COVID-19 related issues, an effort led by sports coach Andre Tucker, who doubled down on his role as the organization's infection control officer. . It is a position that the NFL requires each franchise to create to coordinate all coronavirus problems.
As the Bears ICO, Tucker is responsible for the COVID-19 screening process, ensuring that the cleaning and disinfection program at Halas Hall meets the CDC and ICS instructions and has signs on the entire Health policies and COVID-19 best practices, such as preventing the spread of germs and guidance for people experiencing virus-like symptoms.
"Andre Tucker has done an incredible job with the process," Nagy said. "I think he needs to be noticed about how well he handles this. It can be stressful, but he is doing everything he can to not stress us all. "
Since the beginning of the pandemic, Nagy has repeatedly stressed the importance of regular communication throughout the organization.
"That word 'believe' is huge right now, I really believe it," Nagy said. "When you get news like this, whether it's midnight or early morning or whenever. During the day, immediately you have 150 people in our building who want to know so many answers.
"I think the biggest thing people will learn in our organization is that we always put their health and safety first. We have a thoughtful plan. The best part about Africa. Our crew, and only work with Ryan [Pace] and Andre – and Andre are doing a lot of things every day – just stay calm. Just don't panic, don't get beaten up with all things, all phone calls and interrogations, this and that. You just need to stay calm and you get over it and you're always optimistic. That's what we did. "
Source link