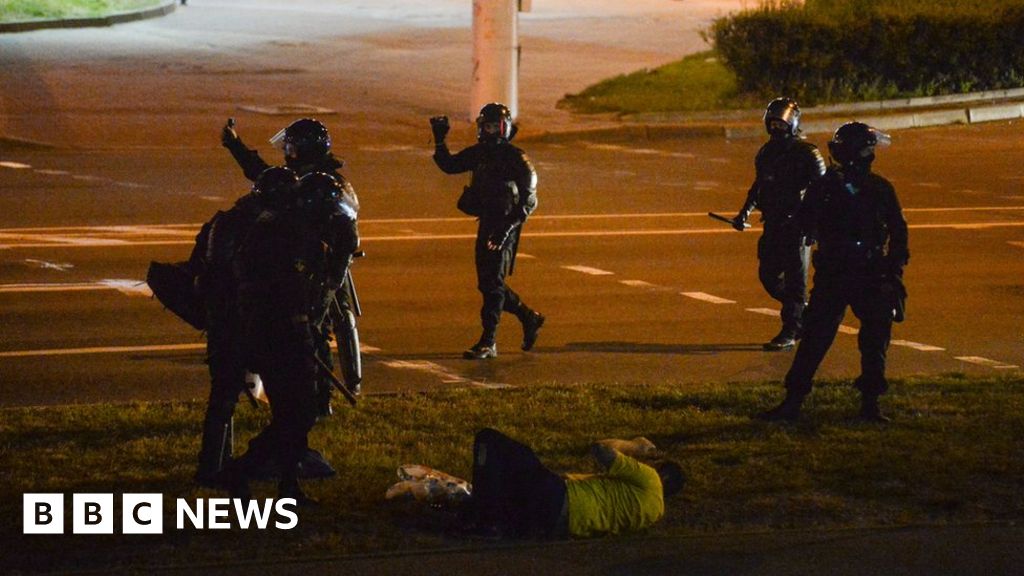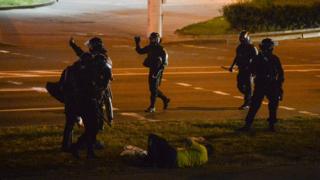 Witnessing police brutality shocked the people of Belarus, first in street clashes with protesters and then tales of the cruelty against those suffering from taken to detention centers.
A 25-year-old man died after being detained on Sunday. His mother said he was held in the police car for many hours.
A street very close to my home in Minsk was at the heart of one of this week's confrontations between police and protesters.
The stun grenade exploded and people screamed as the riot police attacked them with batons. The scream was so loud that it drowned out the grenade.
Regardless and angry
The protests were of unprecedented scale as people in dozens of cities, towns and even villages emerged and called for the main opposition figure, Svetlana Tikhanovskaya, to be recognized as the winner in Sunday presidential election.
I watched young men and women run through my windows for safety, taking a break from the clashes before turning back to face the police.
My neighbor women are trying to prevent their son and husband from participating in the nightly rallies, out of concern for their safety.
About 7,000 people have been detained and you do not need to protest to be arrested. My friend's son, a college lecturer, was randomly detained before the election and spent three days in a cell. According to his mother, the dead captive in Gomel, southern Belarus, Alexander Vikhor, was on his way to see his girlfriend.
The Ministry of the Interior confirmed its measures were "adequate" and pointed out that more than 100 police officers were injured and 28 people were being treated in hospitals. There have been deliberate attempts by drivers to get past the traffic police and "law enforcement used weapons" to stop them, it said.
People here were outraged: with the police, the authorities and, above all, President Alexander Lukashenko. No one I've talked to has any support for what the police are doing.
They watched the Belarus leader speak on TV and laughed at him. They wonder what he thinks will happen next and how he will live with himself.
Shouts from the balcony
A friend tried to pass through Minsk, which is currently difficult because some of the subway stations in the center have closed. When she complained to the subway staff on the platform, they apologized and blamed Mr. Lukashenko for the situation.
He dismissed most of the protesters as unemployed or had a criminal history and instructed the government to find jobs for them.
Police began walking around the courtyards outside the apartment complexes, grabbing anyone they could put their hands on, even teenagers who didn't even object. And this made people even more angry.
The Belarusians shouted from their balcony, swearing and screaming for the police to go away. The police responded by shooting rubber bullets on the balcony.
Women have come running to fight riot police, begging them to be civilians, begging them to stop their attacks.
There have been crackdowns in the past – in 2006 and 2010, though the protests were of a smaller scale. But the level of brutality is shocking and new. Protesters and often passers-by were targeted by people dressed in black, wearing tank tops and without badges or uniforms. The same goes for a BBC group.
The people here, despite the fact, are also worried about the future.
Further sanctions on Belarus would push prices up in an already low country. There is also the fear of losing your job if you are identified as supporting the rallies.
There is no leader for the exiled opposition
But there was also a fearlessness among mostly young protesters. These are mostly ordinary Belarusians, not the tough opposition supporters we've seen in past rallies and they don't have a clear leadership.
The old opposition was gone. Some people who are against the president or campaign for democracy are behind bars, others have fled into exile.
Until now the new generation of protesters had no clear political requirements or agenda, only the slogan: "Go away! Long live Belarus! Release the prisoners!"
Svetlana Tikhanovskaya herself is not an opposition leader but a housewife who has a blunt approach that symbolizes everyone's desire for change. But she also went.
However, there is leadership and community here. A crowdfunding initiative raised more than $ 1 million (£ 765,000) for injured and detainees: food, attorney fees and fines.
Protests were quieter on Wednesday night and Belarusians are now searching for walking stages at their workplace.
Several employees in factories and academia went on strike, demanding an end to the violence, and urged Tikhanovskaya to be recognized as the winner of the election.